SALT LAKE CITY — Salt Lake City drivers don't have it as hard as similarly sized cities, but they still pay a cost for traffic congestion, according to a new study.
Those who commute during peak traffic time — which amounts to about four hours a day — are cost $620 each per year, according to the study, out of Texas A&M University. That amounts to $449 million per year.
The average rush hour commuter loses 30 hours a year by sitting in traffic, holding steady after a significant jump from 2008's 26 lost hours. The metropolitan area ranks near the lower end of the scale for large urban areas: Commuters in Nashville, for instance, lose 47 hours per year. Drivers in Raleigh, N.C., lose only 23 hours per year, by comparison.
A large urban area is defined as having a population of between one and three million.
Provo-Orem drivers, comparatively, lose $514 each and 25 hours per year, putting the metro area about in the middle of medium urban areas, defined as having between half a million and a million people.
Congestion is expected to increase nationwide over coming years, according to the report, and in areas of all sizes.
"Big towns and small cities alike cannot implement enough projects, programs and policies to meet the demands of growing population and jobs," the report states. "Major projects, programs and funding efforts take 10 to 15 years to develop."
One problem along the Wasatch Front could be similar to constraints on cities like Pittsburgh and Seattle: Geographic constraints — the Great Salt Lake on one side and mountains on the other — cause more congestion than in regions that offer multiple alternative routes.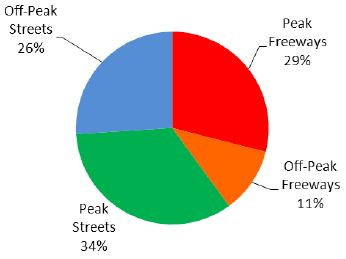 The recession slowed the growth of congestion, but the rate is still on the rise. The researchers warn that the average commuter will see an increase in time lost of seven hours by 2020. The total congestion-related fuel cost will more than double by the end of this decade, growing from about $10 billion to $22 billion in 2020.
The study offers a conversion rate for finding out by how much a driver's commute will be increased by driving during rush hour. The Salt Lake area's rate is 2.02, meaning driving during rush hour will about double your commute time.
That is less than the national average, which sees a triple in time spent on the freeway during rush hour. And the Utah Department of Transportation says that is no accident.
"We do a lot of real-time monitoring to see how the traffic is behaving," said Robert Miles, a UDOT traffic engineer. "(We) watch traffic on our interstate systems and our highway systems, finding problems and trying to get the information out, how people can avoid them."
Miles said commuters should do their part, though, if they want to see a decrease in congestion.
"Reduce the number of trips you make, if at all possible," he said. "Consolidate, try carpooling; look at alternative methods to get there."
Contributing: Mike Anderson
×
Photos
Related Stories