SALT LAKE CITY — The Great Salt Lake Council of the Boy Scouts of America is urging the national organization to uphold its policy of restricting membership to the organization based on sexual orientation.
The executive committee of the council met on Monday to discuss the proposed revision to the policy, which currently prohibits openly gay members and Scout leaders.
In a statement released after the meeting, the council cited a July study that found that 88 percent of parents of BSA members agreed with the association's membership policy. It also referred to a 2000 Supreme Court decision that upheld the BSA's right to set its own membership standards.
"The Great Salt Lake Council opposes any change to the current membership policy without complete and open discussion and deliberation with professionals, volunteers, parents, chartered partners, and all other stakeholders of the organization," the council said in prepared remarks. "We reaffirm the mission of the BSA, which is 'to prepare young people to make ethical and moral choices over their lifetimes by instilling in them the values of the Scout Oath and Law.' "
The proposed policy change would end the nationwide exclusion of gays as scouts or leaders, instead making local troops able to make their own decision regarding the matter. The proposal comes as the association has faced countless protests and petitions against the current ban.
BSA spokesman Deron Smith told the Associated Press that were the policy to be changed, "there would no longer be any national policy regarding sexual orientation."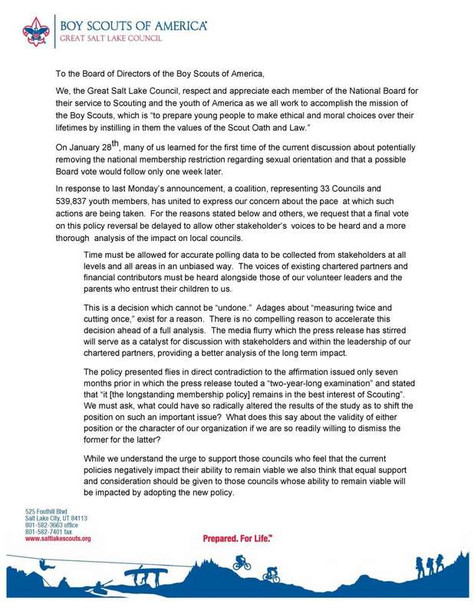 "BSA members and parents would be able to choose a local unit that best meets the needs of their families," he said. "Under this proposed policy, the BSA would not require any chartered organization to act in ways inconsistent with that organization's mission, principles, or religious beliefs."
The proposal has drawn a divided response from politicians. Texas Gov. Rick Perry said on Saturday that he does not support the policy change, opposing an organizational change he said was based on the whims of popular culture.
"Hopefully the board will follow their historic position of keeping the Scouts strongly supportive of the values that make Scouting this very important and impactful organization," Perry said. "I think most people see absolutely no reason to change the position and neither do I."
Pres. Barack Obama reaffirmed Sunday his position that gays should be allowed in the Boy Scouts. The president had stated in August that he opposed the ban.
"My attitude is that gays and lesbians should have access and opportunity the same way everybody else does in every institution and walk of life," Pres. Obama said. "The Scouts are a great institution that are promoting young people and exposing them to opportunities and leadership that will serve people for the rest of their lives. And I think nobody should be barred from that."
×
Related Links
Related Stories