This archived news story is available only for your personal, non-commercial use. Information in the story may be outdated or superseded by additional information. Reading or replaying the story in its archived form does not constitute a republication of the story.
ALPINE — Usually, you need some binoculars or perhaps some backpacking gear to get an up-close look at an elk. Lately in Alpine, you just have to go down the road which is what a lot of people have been doing.
No matter how many cars go by, no matter how many runners point or wave to say hi, Bob, the elk, just stands there.
"He likes his picture taken, said resident Lisa Hogge, "He's kind of a ham."
Hogge isn't sure how he got named Bob, but she does know he's been making his way through a field in Alpine for at least the past few weeks.
"It's beautiful here," she said. "And he just kind of fits into the scenery."
Residents can't get enough of him. They stop to take pictures and sometimes even feed him.
"I think he's down here because everybody is giving him apples and he's finding food," Hogge said.
However, as peaceful and friendly as this elk looks, the Division of Wildlife Resources has said that could change at any second, and you really do need to be careful.
"Bull elk, they have big antlers and we've all noticed they have sharp points on those antlers," said Scott Root with DWR.
Root said it appears Bob could be sick and old and might not have the strength to go back into the mountains, which is what biologists would like the elk to do.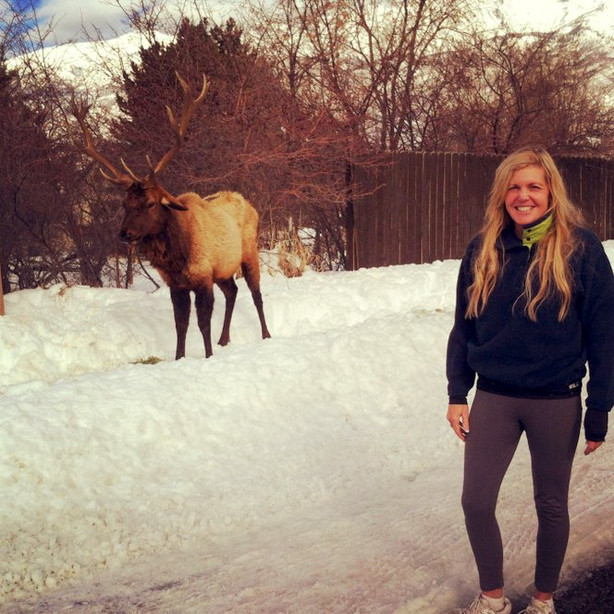 "We're monitoring the situation," Root said. "We're watching the elk and we'll make a decision here in the near future about what to do with it."
It is important to remember Bob is really a wild animal and should be respected as such. One option would be to tranquilize him and relocate him into the mountains, if biologists think he could survive being up there.
Residents know what some hunters would like to do to Bob. With 6 points on one side, 5 on the other, he would be a prize.
"I don't hunt myself, but I figure any of the hunters out here would probably want to mount that on their wall," said resident Christine Eibel. "I guess one day, they heard a shot around the neighborhood; 'Oh no, he's gotten shot.' "
Bob wasn't shot, at least, not with a gun. But there are certainly a lot of camera shots of him. No matter what happens, though, lots of people are having a good time seeing him in town.
×
Photos
Related Stories