This archived news story is available only for your personal, non-commercial use. Information in the story may be outdated or superseded by additional information. Reading or replaying the story in its archived form does not constitute a republication of the story.
Carole Mikita reporting"And now, I'm honored to announce your next performance 'Come, Come, Ye Saints'..."
President Bush became part of a historic moment here in Utah as the Mormon Tabernacle Choir celebrated its 4,000 broadcast this morning.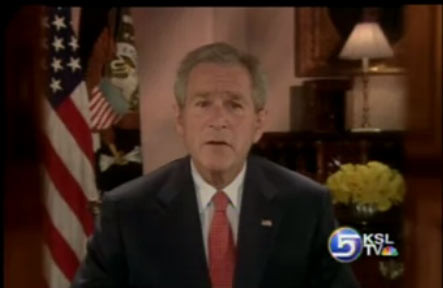 "Music and the Spoken Word' is the longest running program on nationwide network radio -- KSL-TV has aired it for 40 years.
"From the crossroads of the west, we welcome you to temple square in salt lake city for the 4,000 broadcast of 'Music and the Spoken Word' "
The group known as America's choir passed a broadcasting landmark that began July 15th, 1929...
"How firm a foundation, ye saints of the Lord..."
Pres. Bush: "You have brought music and inspiration to generations of Americans and I wish you continued success in the future...."
360 voices and many behind-the-scenes for 77 years.
Craig Jessop, Music Director, Mormon Tabernacle Choir: "It represents the collective efforts of thousands: of singers, directors, organists... It's really quite a remarkable legacy to be a part of."
The spoken word represents, to many, an inspiring non-denominational message first given by Elder Richard L. Evans, then Spence Kinard and how Lloyd Newell.
It was an historic day for members of the choir, their President calls them an army of volunteers. Their church leaders call them musical missionaries."
Brian Roberts, Mormon Tabernacle Choir: "I'll bump into people and if I have my bag with me and it says 'Mormon Tabernacle Choir' on it, and they'll go,'Oh, you're with the choir?! I love the choir, they're so wonderful!' "
When the choir travels, 'Music and the Spoken Word' has originated from worldwide locations, London, Geneva, Barcelona...loved by audiences abroad and at home.
Emmaline Johnson, Midvale, Utah: "Sunday mornings I look forward to listening to it and it kind of gives you a calmness and something we don't get everyday..."
Bruce Reese, CEO, Bonneville International Corp.: "Music and the Spoken Word' draws bigger audiences in its rated TV markets than any other devotional program..."
Jon M. Huntsman, Jr., Governor of Utah: "I express my heartfelt appreciation for the way in which all involved with 'music and the spoke word' represent the state so prominently and so proudly throughout the world."
The audience recognized President Gordon B. Hinckley, the choir's advisor for 35 years.
Pres. Gordon B. Hinckley: "All of you who serve in any way in the Mormon Tabernacle Choir, accept of our thanks, of our gratitude, of our appreciation and of our blessing."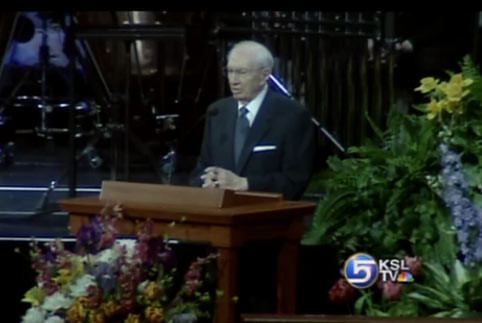 President Hinckley told them to continue, always improving the quality of their performances.
It takes about 19 years to do 1-thousand weekly broadcasts, so, that means the choir will celebrate its 5-thousandth performance of 'Music and the Spoken Word' in the year 2025.
×