Estimated read time: 3-4 minutes
This archived news story is available only for your personal, non-commercial use. Information in the story may be outdated or superseded by additional information. Reading or replaying the story in its archived form does not constitute a republication of the story.
NORTHERN UTAH — A picture posted to Facebook of a Utah woman searching for her biological parents has lead to people worldwide spreading word of the search and offering to help in any way they can.
In the two days since Jenessa Simons posted on the social network a photo of herself holding a sign describing her search, more than 27,000 people have shared the post. That number was only 7,000 on Monday night, and even that felt overwhelming, Simons said.
"I figured a few friends might share it, but this has been overwhelming," she said. "It's mind blowing."
Simons has more friend requests than she can keep track of, and has been contacted by people from all over the country and from as far away as London. She said she has received about 30 emails from people offering help — most providing links to various adoption connection websites. One woman offered something Simons hopes will provide a valuable clue, though.
"She has yearbooks from Provo High from the years they would have attended," Simons said. "She's going to email me the pages."
Simons doesn't know if her parents, who were both 16 when they had her, attended Provo High School. All she knows is that she was born at Utah Valley Regional Medical Center, and that she was adopted out of Provo. It's the only information she has about her parents that could make a difference; she has their physical descriptions, but "brown hair" isn't much of a lead when searching for a person, she said.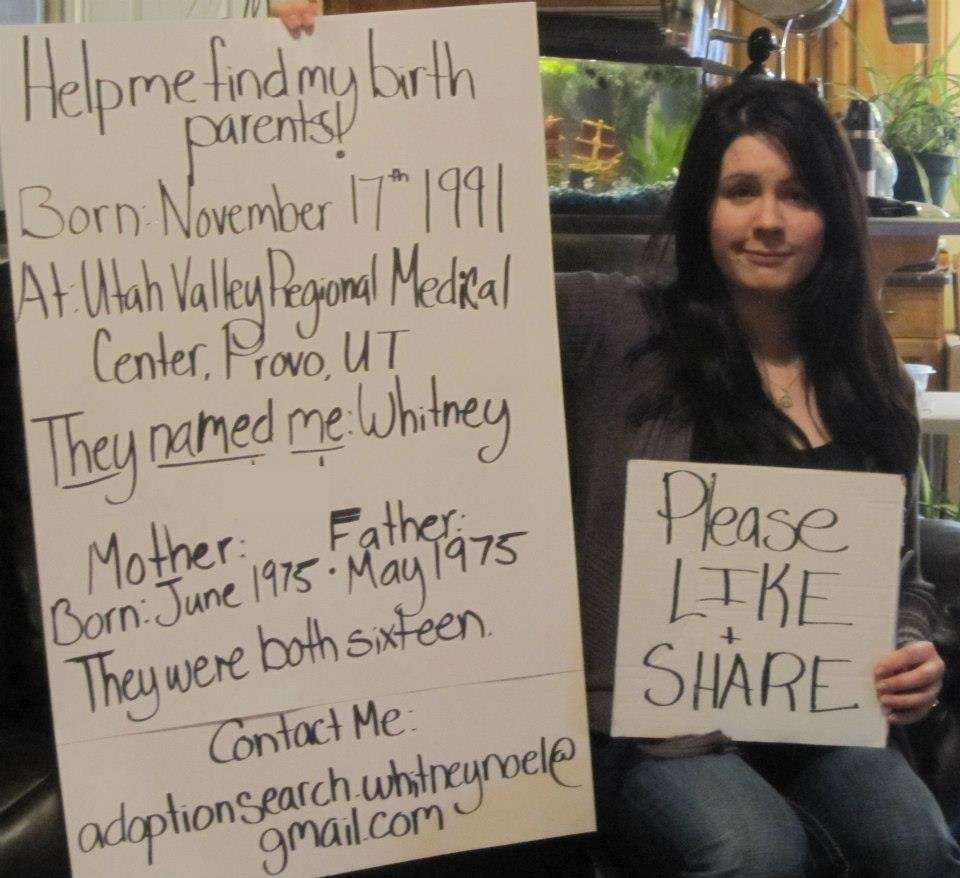 Simons said her parents made sure she understood from a young age that she was adopted. Her mother was a stay-at-home mom until Simons was 15 years old. She went to every activity, volunteered in the classroom and taught her daughter Spanish and piano. Simons' father worked two jobs, but still managed to always be there for his family. "He gave me the benefit of the doubt when I definitely didn't deserve it," Simons said.
She said they have been supportive of her current search, and shocked at how much attention the post had received in such a short amount of time. They understand, though, why she's doing it.
"I have an amazing family. I could not have asked to be raised by better people," Simons said. "I just want a chance to say thanks."
Her brother, who is also adopted, has not gone the same route in finding his biological parents. Simons has filed seemingly endless paperwork with mutual consent agencies, which basically provide a means by which biological parents and their offspring can be reunited — but only if they choose. Frustrated at the slow processing times, Simons finally decided to take matters into her own hands with her Facebook post.
Her brother, on the other hand, has been more private about his search, saying he will do it when he's ready. Simons said she is ready, she doesn't feel as if she's been ready for long.
"I always knew this was a piece of my past that one day I would dig up," she said. "When I was 18 and doing all those searches, I think it was a half-formed idea. I just woke up one day last week and thought, 'I think it's time.' "
×
Related links
Related stories
Most recent Utah stories