Estimated read time: 3-4 minutes
This archived news story is available only for your personal, non-commercial use. Information in the story may be outdated or superseded by additional information. Reading or replaying the story in its archived form does not constitute a republication of the story.
SALT LAKE CITY — Marvin Williams is a relative newcomer with the Utah Jazz. We know the 6 foot 9 inch tall forward can dunk and make 3-point shots, but there is a passion to Williams that gives fans another reason to cheer for him.
At just 26 years old, Williams is living the life on an NBA star, making millions of dollars.
"I've been very, very blessed. I'm very thankful for the opportunity that I have," Williams said, speaking one on one with KSL News. "I'm really happy with where I am now."
If you ask him, he'll tell you he's living the dream — but he's also living the life of a student. In between battles with the Los Angeles Lakers and San Antonio Spurs, Williams is doing his homework.
"I loved college so much, I really didn't want to leave college," he said.
---
I think once I finish, making it to the NBA will not be my greatest accomplishment. For me personally, it will be getting my college degree.
–Marvin Williams, Utah Jazz
---
Williams left North Carolina for the NBA after his freshman season, but he didn't leave behind the desire to graduate. Now, credit by credit through correspondence, he has worked into his senior year and is closing in on a sociology degree.
"My mother and father raised me with the important of education, and they really stressed education growing up," Williams said. "Like I said, I'm really blessed to maybe have the ability to maybe never work again, but I still would like to have that degree in my back pocket."
"I think once I finish, making it to the NBA will not be my greatest accomplishment," he added. "For me personally, it will be getting my college degree."
Despite his accomplishments and determination to continually improve, Williams doesn't consider himself an exceptional role model.
"I know the position that we're in — we're all role models — but I don't know who would want to look up to me, I guess," he said.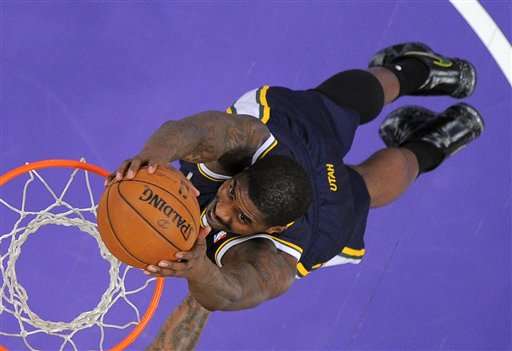 Williams will make $8 million with the Jazz this season and has an option to return next year. The ping pong enthusiast said he's comfortable in Salt Lake after spending seven seasons in Atlanta.
"The first snow a few weeks back, driving home I got stuck. Coach (Tyrone) Corbin got out of his car and tried to help me push my car out," Williams chuckled.
"It was awful it was so bad. I actually had to ship my car back, and I got a truck; so I'm prepared this time. I got the little ice scraper for the windshields," he said.
As for the fans that cheer Williams on each game, he's noticed something different about them too.
"That first day we had the open scrimmage, I'd never seen that many people in an open practice before," Williams recalled. "This is my eighth year in the league, so they really showed me what Utah Jazz basketball was about that first day."
And he hopes to play a role in giving those fans a postseason ride this year.
"I feel like with me being here, and adding other pieces going into the postseason, you have a chance to make a big playoff run," he said. "Guys come in and work hard every day. As long as we have guys that want to win and work hard, then the possibilities are endless."
×
Photos
Related links
Most recent Utah stories