This archived news story is available only for your personal, non-commercial use. Information in the story may be outdated or superseded by additional information. Reading or replaying the story in its archived form does not constitute a republication of the story.
SALT LAKE CITY — Gov. Gary Herbert called on lawmakers Thursday to establish a new panel to review ethics complaints against Utah's elected executives, but said he was not calling for an ethics investigation into embattled Attorney General John Swallow's activities.
"I'd like to see what the facts are before we make any rush to judgment or jump to conclusions," Herbert said during his monthly news conference on KUED Ch. 7. "That being said, I do believe there is need for some reform."
The governor stopped short of agreeing with Utah GOP Chairman Thomas Wright, who said Wednesday that "at a minimum," Swallow made mistakes that could be avoided through a series of common sense reforms aimed at state executives.
"It appears we're kind of piling on the attorney general right now because of his unique circumstances and his challenges," Herbert said, calling criticisms of Swallow from the sidelines "a little disingenuous."
Related:
The governor said he believes Swallow regrets having meetings that led to accusations he helped broker a deal to bribe a congressional leader. The attorney general, Herbert said, "probably thinks that's a mistake."
But the governor did agree with the state Republican Party chairman that an ethics commission should be created to look into potential complaints against the governor, attorney general, treasurer and auditor.
Herbert also said he supports a legislative proposal to bar the attorney general and his staff from working outside the office. Swallow was working as a consultant as the deputy attorney general when he allegedly got involved with a St. George businessman attempting to stall a federal investigation.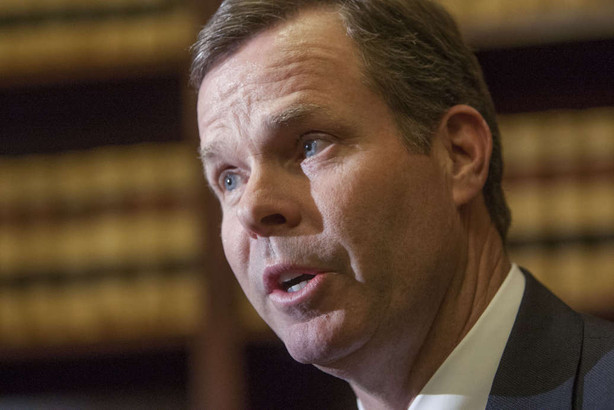 The governor's office already has a simliar policy, Herbert said, noting his general counsel, John Pearce, had to give up his position at a law firm when he joined the staff but was allowed to teach at the University of Utah law school.
Herbert said the public needs to be patient and wait for the results of the federal investigation that Swallow himself requested into the allegations shortly after they surfaced earlier this month.
He said if Swallow is not found to have violated federal law, "that's going to bring a lot of confidence to his tenure as attorney general." The governor said an indictment would make his situaiton more difficult and "clearly, a conviction would warrant resignation."
No federal investigation has been confirmed into claims made by Jeremy Johnson, a St. George businessman, that Swallow helped arrange a $600,000 deal to enlist Senate Majority Leader Harry Reid, D-Nev., to stop a federal probe into Johnson's Internet marketing company. Johnson faces fraud charges in federal court.
×
Photos
Related Stories
More stories you may be interested in