Estimated read time: 2-3 minutes
This archived news story is available only for your personal, non-commercial use. Information in the story may be outdated or superseded by additional information. Reading or replaying the story in its archived form does not constitute a republication of the story.
Amanda Butterfield reportingThis Christmas will be one to remember for the Kevern family in Herriman. It's the family's first Christmas together with all eight of their kids, each of them under 10 years old! This family practically doubled overnight.
Meet Gage and Graysen, Jada and Devion. Mariah wants a Barbie for Christmas. Isaac wants a Batman toy. Gunner can be a bit shy, and Gavon just had a birthday.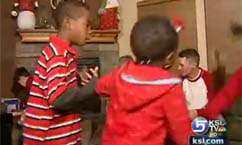 Gage, the oldest sibling, said of his family, "The good thing is you're never really bored. But the bad thing is it's never really quiet."
There's lot of laughing, playing, and time-outs in the Kevern house.
The children's mother, Jamie Kevern, said, "You guys, stop, please."
It didn't always used to be this crowded. The story begins with Graysen.
Jamie and Jason had three children of their own when they adopted him from a young, single mother in Chicago last January.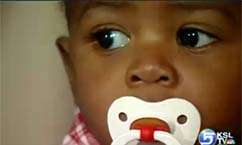 Jamie said, "She fell on some extra hard times and sent the kids with us when he was about 9 weeks old. She was planning to come for them later."
But she just couldn't, and the Keverns learned the four remaining kids were headed for foster homes.
Jason Kevern said, "We cannot split kids. If there's any way of keeping these kids together, we have to try, because we wouldn't be able to live with ourselves if we don't at least try."
So Jason and Jamie adopted them all; it was finalized on Dec. 12.
Devion said, "I get to play with all these people, and I got new brothers."
Gavon said, "It's fun."
And Jamie told us, "It's our first like real Christmas."
Last year at this time the adopted kids were living in a car with their mother, who had to sell their Christmas presents for money. This year the kids will get presents, good food, and they'll all be together.
Jason said, "It's going to be really, really special."
You'd think with eight kids this family would be finished growing. But could more kids be on the way? Jason answered, "If you ask me that question it's simple: It's no. If you ask Jamie, she would like to have one more."
Perhaps child number nine will be here for Christmas next year.
The family is in touch with the birth mother of the adopted children. She is 23 years old and still living in Chicago.
×
Most recent Utah stories