TOOELE — Kyle Cooper used to laugh a little at the idea of recycling, but now he's hoping it will put him through school.
Cooper, a junior at Utah State University, is trying to collect 50,000 aluminum cans by May 4, the last day of the semester. If he succeeds, he gets a scholarship from Green Box Recycling in Tooele. If he doesn't, he gets to rest assured he has created a new scholarship program for Tooele-area college students.
Cooper said he came up with the idea for the program, which he later pitched to Green Box, because he and his wife were struggling to make ends meet. He tried scrapping metal, but soon realized that wasn't enough. Collecting cans might work, he thought, but he needed a legitimate reason so people would be willing to contribute.
Green Box agreed to sponsor Cooper's scholarship, and next semester, the scholarship should be available to students throughout the county — it seems like a project that doesn't have a downside, Cooper said.
"They get free marketing, a tax break for providing a scholarship and they're helping the community," he said. "I think that was one of their biggest interests: getting more people recycling and benefiting their community because at this point, any way a company can contribute to their community is a great thing."
The project has been good for Cooper, too: he said he had not done much recycling in the past, but plans to continue into the future.
"I kind of laughed at the idea a little bit because everyone's going green and I thought it was kind of funny," he said. "But since I've gotten involved in this project, I've become an advocate, especially in the case where not everyone has to go out of their way to recycle everything — but there is one thing more that everyone can do."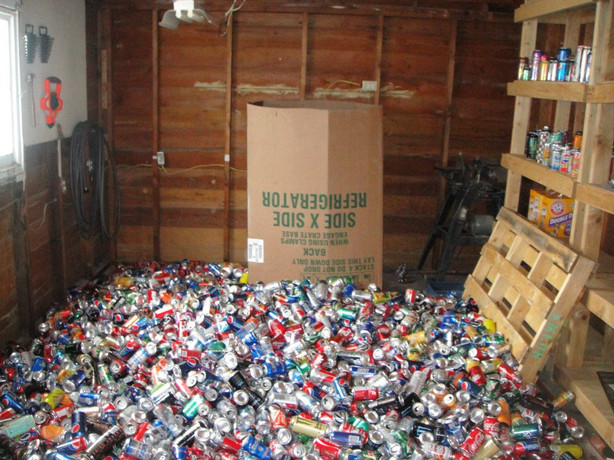 So far, Cooper has collected about 6,000 cans, averaging about 150 a day, a number "that obviously has to go up" if he is going to reach his May 4 goal. He said he spends 12–13 hours a week visiting businesses, contacting individuals and counting cans.
Before it started snowing, he would stop along I-80 or Highway 36 in Tooele to collect forgotten cans. Now, he said, his contributions are more likely to come from a soda habit he's picked up since starting the challenge in the first week of December. "I figure I need to contribute," he said.
Cooper said some people have asked whether 50,000 cans is an attainable goal, but with Tooele having a population of about 30,000, he doesn't see a problem with the goal.
"It's not a matter of whether the cans are out there; it's just a matter of getting people to contribute," he said.
He said he thinks the program will be successful because it's difficult to find a downside.
"I get more people recycling, I am earning money for school, I'm allowing a local business to support their community," he said. "I don't see a downside, especially if this is offered to other students in the future."
If you wish to contribute cans, message Cooper through his Facebook page.
×
Photos
Related Links
Related Stories