Estimated read time: 2-3 minutes
This archived news story is available only for your personal, non-commercial use. Information in the story may be outdated or superseded by additional information. Reading or replaying the story in its archived form does not constitute a republication of the story.
SALT LAKE CITY -- At high noon on Sunday, March 11, the "child-friendly" Togetherville social network will be discontinued. Purchased by the Walt Disney Company early last year, Mickey Mouse is now saying goodbye to all his friends and disbanding thousands of neighborhoods.
Created in 2010, founder Mandeep S. Dhillon was seeking an environment in which his tech-savvy 4-year-old could "play." Aimed at kids 10 and under, the Togetherville social network was moderated by parents through their personal Facebook accounts.
On Togetherville, children were able to build a neighborhood of friends — approved, of course, by a parent — and were allowed access to games and art applications. With all the familiar interaction of Facebook, children were allowed to exist within a safe online environment.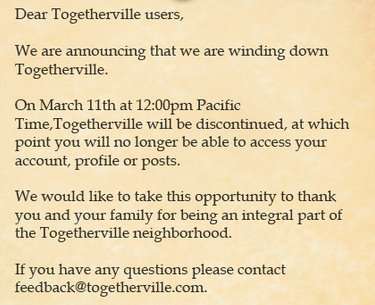 Having received a big boost with the Disney brand, the decision to shutter the social network came in four short sentences posted on the Togetherville website. While Disney offered no rhyme or reason, it did give a number of referrals to other Disney branded properties:
Disney.com/Create – is a creative platform offering tools that enable children to develop original works of art, including digital paintings, video mashups, comic books, animated pets and more.
Disney.com/Games – is a kid-friendly online destination with casual games featuring a number of favorite Disney characters.
Disney.com/Videos – is a family-friendly destination featuring original Disney web series, Disney music videos and videos of favorite Disney characters.
Club Penguin – is the No. 1 virtual world for children with a reputation for providing fun for kids and peace of mind for parents.
Disney Family.com – is an online destination for mothers and families providing hundreds of crafts, recipes, advice and family activities.
Attempts to reach Disney on its decision to shutter Togetherville were unsuccessful.
Mickey Mouse would say, "See you real soon." But in the case of Togetherville, you left behind a lot of unhappy kids. Previously worried about their MySpace accounts, instead their virtual neighborhood of friends at Togetherville are being scattered for all eternity.
Bill Lewis is principal of William E. Lewis Jr. & Associates, a solutions-based professional consulting firm. To learn more, please visit www.williamlewis.us.
×
Related links
Most recent Family stories