Estimated read time: 2-3 minutes
This archived news story is available only for your personal, non-commercial use. Information in the story may be outdated or superseded by additional information. Reading or replaying the story in its archived form does not constitute a republication of the story.
APACHE JUNCTION, Ariz. — Two aspiring filmmakers wanted to do something unusual to catch Pixar's attention, so they looked to a childhood favorite: "Toy Story."
Jonason Pauley, 19, and Jesse Perrotta, 21, wanted to visit the Pixar Animation Studios in Northern California, but know they would have to do something special to get inside. So they decided to remake "Toy Story" in live action.
The 80-minute shot-for-shot reproduction was put online Saturday and had received more than 1.7 million views on YouTube as of Monday morning. It took two years to produce, and the two men now have nothing left to do but wait.
"(Pixar) doesn't let people in unless you've done anything," Pauley told the East Valley Tribune in October. "But I'm pretty confident; there's a group of people who made a pizza planet truck in California and they got in."
Perrotta said seeing Toy Story when he was younger changed the way he saw the world.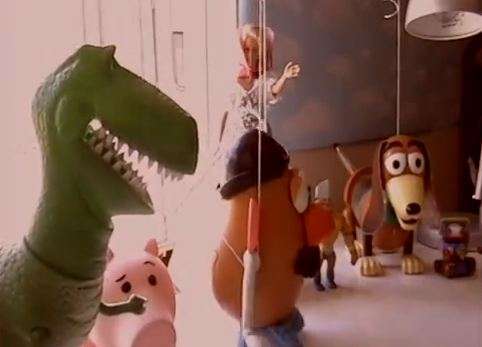 "After seeing 'Toy Story,' I started playing with my toys differently; I really made them alive," he said.
The two saw "Toy Story 3" in theaters in June 2010 and started the "Live-Action Toy Story Project" soon after. Pauley said the duo could not decide which scene to shoot, so they went for the entire movie.
Local homes and businesses were used as sets, and about 150 friends, family members and kids from the men's church were the actors. They gathered toys from friends and family and bought what else they needed at Goodwill. In all, they spent about $1,000.
The two reportedly finished the movie in October, but were awaiting permission from Pixar before posting it online. They recently were invited to Pixar Studios and passed out DVDs of the movie in front of the studio, according to the project's Facebook page.
×
Related links
Related stories
Most recent Features stories