This archived news story is available only for your personal, non-commercial use. Information in the story may be outdated or superseded by additional information. Reading or replaying the story in its archived form does not constitute a republication of the story.
OMAHA, Neb. — In what is being called a real-life "Toy Story," an Omaha boy was recently reunited with a stuffed monkey he lost three years ago.
A YouTube video created by the boy's father tells the story of young Liam, who was given a stuffed blue monkey by his grandparents for his first birthday. He named the monkey Ah-ah.
"Ah-ah became a member of the family, going everywhere my son went," Liam's father wrote in the video. "They'd played together at home, at grandma and grandpa's house, even going to preschool together."
Ah-ah went missing, though, during a 2009 camping trip to Rocky Mountain National Park. Liam was devastated, and his mother never gave up looking for the little blue monkey.
Three years later, Liam's mother was looking on eBay for a viola and found a monkey that looked like Ah-ah; she thought Liam might love this monkey just as much as he loved Ah-ah. But when the package came, she was in for a surprise: the monkey was Ah-ah, down to the hair that had been singed in the dryer and the ragged cut from a missing tag.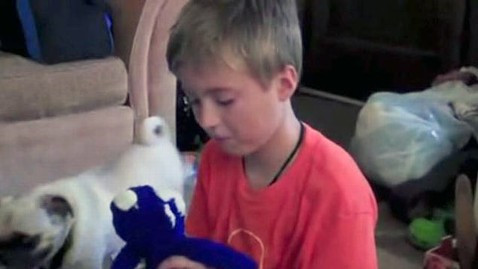 She presented it to Liam, who was tearfully reunited, at long last, with his beloved Ah-ah.
"Where did you find him?" Liam asked between sobs. And later, "How much was he?"
"It doesn't matter," his mother replied.
"Well, you shouldn't have had to pay," Liam said.
Liam's mother had purchased Ah-ah from Tamy Staveley of Florida, who runs the eBay store Lost Loves Toy Chest. Staveley finds lost toys and sells them online, hopefully to their original owners.
"I'm just happy that they found it," Staveley told the New York Daily News. "I'm so glad that I could help. I've been in that position and I know that that item is basically priceless, you can't sleep, the kid's crying."
×
Related Links