Estimated read time: 5-6 minutes
This archived news story is available only for your personal, non-commercial use. Information in the story may be outdated or superseded by additional information. Reading or replaying the story in its archived form does not constitute a republication of the story.
UPDATE: Brooklyn Gittins has been found safe, according to Herriman City.
Be Ready Herriman posted on Facebook that Gittins was safe, but released no other details.
More information will be posted when it is made available.
---
HERRIMAN — Between 500 and 600 volunteers searched throughout Herriman Thursday for a teenage girl missing for more than 36 hours.
"I have five kids and I know if one of them was missing, there wouldn't be an inch where I wouldn't look and I'd need help. So we figured we'd get out here and do what we can and bring some good results," said Jenni Goodrich, one of the many volunteers who showed up to help search for 13-year-old Brooklyn Gittins.
Knowing that a major winter storm was on the horizon, the Unified Police Department ramped up efforts Thursday to find Brooklyn, who hasn't been seen since she went to bed Tuesday night.
By 3:30 p.m., however, the call for volunteers was canceled as the Unified Police Department decided they didn't want to put any volunteers at risk by sending them out into the blowing snow.
Salt Lake County Sheriff Jim Winder said the search will continue Friday, but volunteers will no longer be needed. Instead, professional search and rescue teams will coordinate specialized searches in the wilderness areas surrounding Herriman.
The strange disappearance
Brooklyn was last seen in her home, 13912 S. Friendship Drive (5755 West), at 8:40 p.m. Tuesday, said Unified Police Lt Justin Hoyal. But when her parents went to check on her at 7 a.m. Wednesday, she was gone. There were no signs of forced entry into the house.
She was believed to only be wearing black pajama pants with a Scottie dog pattern and a T-shirt. Police originally thought she had been wearing a "Lake Powell" T-shirt, but said Thursday she was likely wearing a T-shirt with a pink University of Utah logo. She does not have her eyeglasses with her, something Hoyal said is unusual for the girl. Her family also fears she does not have shoes.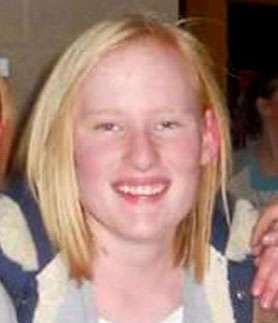 "I'm very hopeful that this young lady has decided to leave on her own volition, for whatever reason, and simply has not returned," Salt Lake County Sheriff Jim Winder said Thursday. "We just want her to come on home — no harm, no foul."
Brooklyn has run away before, Hoyal said, but under different circumstances. Craig Hiller, Brooklyn's step-grandfather, said everything in Brooklyn's home was normal Tuesday night.
"(There was) nothing going on at home that would cause her to leave. They were exercising before she went to bed," he said. "Everything was fine. … We want her to call or come home."
Matt Tulin, the fiance of Brooklyn's mother, said the family remains optimistic for a good ending.
"I know we'll find Brooklyn. I want to say to Brooklyn, 'Please come home. We love you,'" he said. "With our faith, there's a lot of hope. We know the outcome will be positive."
Friends,neighbors, police spend Thursday searching
Several law enforcement officers, fire agencies and community groups participated in Thursday's search. Search dogs and helicopters were used and citizens even volunteered to bring horses and ATVs to help.
Volunteers started gathering at 8 a.m. at the LDS Church meetinghouse at 5562 W. 13680 South and were told to expect inclement weather. Each volunteer was required to fill out an application and have a background check conducted on the spot. They were then given an ID card so Unified police could also keep track of the searchers. The volunteers were also required to watch a short instructional video before being broken into groups of about 10 people and sent out to cover a quarter- to half-mile area.
---
It's nice that not only so many people are oriented to the service, but also relating that could be their kid or their best friend or their cousin or whatever and just want to get out and search for them.
–Susan Byerly, volunteer searcher
---
Groups could be seen all over Herriman Thursday searching fields and looking around construction equipment and vacant homes. Volunteers were told to check the doors of vacant sheds, barns and outbuildings in case Brooklyn was scared and was hiding inside one of them. Hoyal also encouraged all residents, whether they were part of the search effort in Herriman or not, to search sheds and out buildings on their own properties to make sure no one was hiding inside. Volunteers also posted and passed out fliers to local businesses.
Susan Byerly was one of the volunteer searchers on Thursday. Her best friend is Brooklyn's mother. She said the family was feeling as any family of a missing child would.
"I just don't know what to do or think or what would prompt Brooklyn to leave if she left or what would prompt someone to take her if she was taken. It's almost a helpless feeling," she said.
Byerly said she was very appreciative of the volunteer efforts.
"It's nice that not only so many people are oriented to the service, but also relating that could be their kid or their best friend or their cousin or whatever and just want to get out and search for them," she said.
Tip Line
Police have set up a tip line for any information about Gittins' whereabouts or what may have happened to her. That number is 801-743-7280.
Tanya Pusey also helped in the search, even though she doesn't know Brooklyn or her family.
"I would want everyone looking for (my son) if something was wrong," she said.
Callie Sainsbury has received Community Emergency Response Team training for 13 years. She has volunteered during the wildfires in Herriman and was out helping in the search for Brooklyn on Thursday.
"It's just something I can do to help the community," she said.
Investigators had not ruled out any possibilities of what might have happened to Brooklyn, Hoyal said Thursday. Anyone who has information about Brooklyn can call a tip line set up by police at 801-743-7280.
Video contrbutions: Devon Dolan, Sam Penrod and Shara Park
---
×
Photos
Related stories
Most recent Utah stories