Estimated read time: 2-3 minutes
This archived news story is available only for your personal, non-commercial use. Information in the story may be outdated or superseded by additional information. Reading or replaying the story in its archived form does not constitute a republication of the story.
HERRIMAN — Concern heightened as the sun set Wednesday on the search for a 13-year-old girl last seen in her bedroom Tuesday night.
If the girl isn't found by Thursday morning, police and the family are looking to dramatically increase the search, calling for volunteers to join them.
Brooklyn Gittins was in her home, 13912 S. Friendship Drive (5755 West), when she went to bed at 8:40 p.m., said Unified Police Lt. Justin Hoyal. But when her parents went to check on her at 7 a.m. Wednesday, she was gone.
"We've checked all the places she would normally go," Hoyal said.
Brooklyn is believed to only be wearing black pajama pants with a Scottie dog pattern and a T-shirt with "Lake Powell" on it. She does not have her glasses with her, something Hoyal said is uncommon for the girl.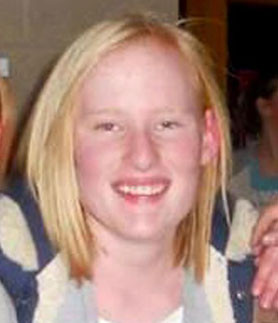 "We're concerned that she is out in the elements and it's been extremely cold," he said.
Craig Hiller, Brooklyn's grandfather, said the family is especially concerned the teen isn't prepared to be outside and appears to have left without even putting on shoes.
Hiller is asking Utahns to think about what they would do if their daughter or sister went missing, then join volunteers in the search.
"We're just trying to figure out where she could have gone," he said. "It's just not like her."
In a plea Wednesday night, Hiller said he hopes his granddaughter is staying with a friend or acquaintance rather than braving the elements, and he encouraged Brooklyn or anyone who may be caring for her to contact the family.
"If you're listening, we want you back, Brooklyn," he said. "All we ask is you call."
Hiller said he hopes his granddaughter knows no one is upset, and he doesn't believe any family strife surrounded the disappearance.
Salt Lake County Sheriff Jim Winder said a tip line has been set up at 801-743-7280. Volunteers will deploy at 8 a.m. Thursday morning from The Church of Jesus Christ of Latter-day Saints stake center at 5562 W. 13680 South.
---
If you're listening, we want you back, Brooklyn. All we ask is you call.
–Craig Hiller, Brooklyn's grandfather
---
Searchers must bring photo ID and have been asked to dress for the cold weather.
Friends described Brooklyn as a straight-A student, saying they are "heartbroken" by her disappearance.
Hoyal said he was not aware of any signs of a possible break-in at the house, and no one in the home heard anything suspicious Tuesday night. He said investigators are still looking at all possibilities about what may have happened to Brooklyn.
Detectives have also made reverse 911 calls in the area to alert residents to the missing girl and officers have gone door-to-door. Her house borders a popular walking trail.
Brooklyn is a white female, about 5 feet tall and 115 pounds, with blonde hair and blue eyes. Anyone with information is asked to call police at 801-743-7000.
Video Contribution: Devon Dolan
---
×
Photos