Estimated read time: 2-3 minutes
This archived news story is available only for your personal, non-commercial use. Information in the story may be outdated or superseded by additional information. Reading or replaying the story in its archived form does not constitute a republication of the story.
Keith McCord reportingIf you're a parent, you've probably seen a lot of interesting things on your children's Christmas lists, some more unusual than others. We heard about a young man who wants a garbage truck for Christmas, a real one! With a price tag of about $250,000, he won't get a real one, but today he got the next best thing.
Zach Harrison is 15, and ever since he was a tyke, he's always loved big trucks.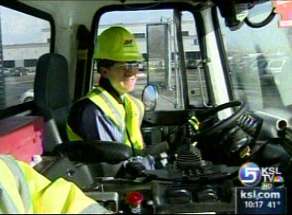 His mom, Heidi, said, "When he was little he used to get up early just to watch the garbage truck, and we couldn't move him until it had dumped (laughs.)"
The bigger the wheels, and the bigger the vehicle, the better! Well, he finally got his chance to get up close to one. Zach was born with a condition called "Tuberous Sclerosis", where tumors flourish in his body, affecting is organs. He is also developmentally challenged--his mental age is about five.
So when the word got out that he wanted a real garbage truck for Christmas, Turn Community Services of Salt Lake, a non-profit agency that works with disabled people, contacted Allied Waste Services.
Allied General Manager Reese DeMille said, "We essentially made him an honorary garbage man, with the whole uniform -- the boots, hat, gloves, everything."
And with that, Zach and Operations Coordinator Dan Mills went to work. The folks at Allied placed various-sized trash cans and dumpsters in the parking lot. Dan drove, Zach did the rest.
And when the work was done, Zach couldn't wait to hug mom and dad and tell them all about it! Christmas came early for Zach Harrison. His parents say the smile on his face from this day will last well into the new year.
Allied Waste Services serves nine counties along the Wasatch Front with 100 trucks. When all that Christmas wrapping paper gets tossed, it may need Zach to help out!
×
Related links
Most recent Utah stories