Estimated read time: 2-3 minutes
This archived news story is available only for your personal, non-commercial use. Information in the story may be outdated or superseded by additional information. Reading or replaying the story in its archived form does not constitute a republication of the story.
Tonya Papanikolas reportingA man in his 40s walked into Davis High School and hid in the showers of the women's locker room. Coaches saw the man and ordered him to leave before any students came into that area. Four days later, police arrested the man. Officers say this isn't the first time the man has been arrested for this kind of crime.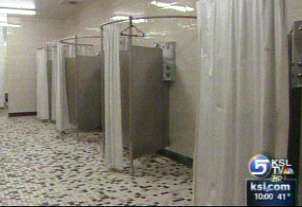 Police say this is at least the sixth time this has happened. Layton police told us this man was spotted in a locker room at Northridge High School three years ago. He's was arrested earlier this year, too. It doesn't seem he's ever actually touched a student, but police say that doesn't mean he wouldn't.
When a coach walked into this Davis High girl's locker room last Thursday during a women's basketball game, she was shocked to see a man hiding in the shower area!
Principal Dr. Rulon Homer said, "He'd pulled the curtain across on the shower, and she could kind of see his head on the top and feet at the bottom."
When the coach approached him, the man said he thought it was the men's locker room and left. But the school says all he did was go out one side and enter again another way.
Dr. Homer said, "Another girl's basketball coach happened to come in again and see him there. This went on, I think three times he was in the girl's locker room."
Student Katherine Smith says, "People were like, 'Whoa, what a creep! Why is he at our school? What is he gonna do?"
Davis School District spokesman Chris Williams said, "Any time anyone is trying to victimize our students, we have a big issue with that."
The school captured the man on security cameras. It didn't take long to identify the man as 43-year-old Brian Lee, arrested for similar incidents in at least five others schools throughout the Davis and Weber school districts.
Months ago, Harrisville police arrested Lee for going into the shower area at Orion Junior High.
Harrisville police chief Max Jackson told KSL, "We arrested him last spring. It's very disturbing. When we arrested him, he said when he gets the urge to do it, he can't help himself and he has to."
Harrisville City charged Lee with lewdness, a misdemeanor punishable by up to 6 months behind bars. But 90 days later, Lee was out. The chief says it's tough to stop the crimes when there's no enhancement penalty for those who re-offend.
"Even these so-called minor offenses are disturbing to the public, and we're kind of at a loss for what to do," Jackson said.
The Harrisville Police chief told us he'd like to see legislation that would allow for tougher penalties for voyeurs who re-offend. Since repeated crimes are just misdemeanors, right now, Lee is not even on the sex offender registry.
×
Most recent Utah stories