Estimated read time: 4-5 minutes
This archived news story is available only for your personal, non-commercial use. Information in the story may be outdated or superseded by additional information. Reading or replaying the story in its archived form does not constitute a republication of the story.
DALLAS — This will be my dad's last Christmas. According to his oncologist, that is, barring a reversal that defies all medical predictions.
I can't imagine Dad not caroling and delivering cookie plates with Mom at Christmastime. This is purely to show Mom how much he loves her, since I'm pretty sure he enjoys it about as much as undergoing surgery. Christmas will feel different without Dad playing Christmas hymns on the piano in the chronological order of Luke Chapter Two and assigning corresponding scriptures to be read between each song. And finally, tear-inducing Christmas stories and the Christmas dinner prayer won't be the same in a different voice.
I'm already mourning the necessity of re-inventing next year's holiday season without Dad.
Once the initial shock and grief of learning about Dad's abbreviated life expectancy diminished, our family had to decide what came next. In various ways — some subtle, some more conscious than others, some out of pure necessity — we took action. The important stuff quickly began taking center stage, leaving the rest behind.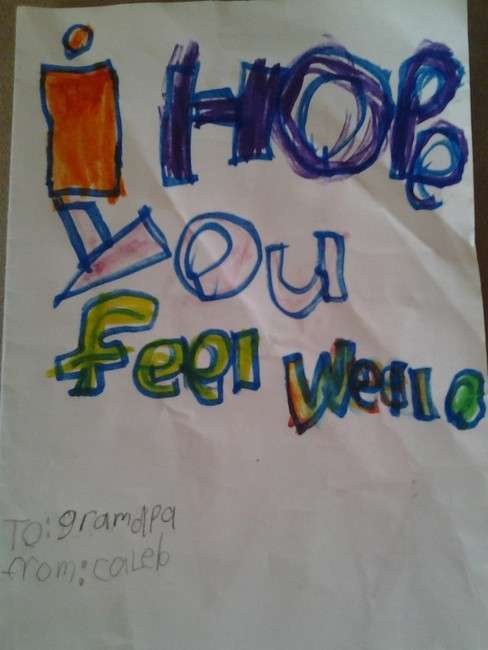 What's happened as a result has proven to be positive, inspiring and at times even miraculous.
My teenagers no longer roll their eyes or suddenly remember that they haven't finished their homework when I tell them it's time to do yard work at Grandma and Grandpa's. They just do it, without even whining (launching this directly into the miraculous category).
Unprompted, my younger kids create cards and handmade gifts for Grandpa. Particularly poignant is a card from my 7-year-old, the front of which reads, "I Hope You Feel Well." On the inside, my son meticulously penned, "I love you because I like you."
Family gatherings have been more memorable. Deliberately resisting our general tendency to scurry around and be overly busy at such events, family members slow down, sit down and talk. The rest of a family event, after all, is just details.
Phone calls and out-of-town visits have increased. They're not filled with sobbing and effusive sentimentality, but genuine efforts are made to fill them with substance.
Our family is rather average, meaning we have our share of issues — both big and small. Dad's shortened life expectancy has offered us all a dose of perspective, however, quietly encouraging us to loosen holds on grudges and to simply let the small (and even some of the big) things go.
Every time I talk to Dad and other family members nowadays, I tell them I love them. This has not always been the case — I've always figured that my love is a given. But as I say it more often, I regret all the chances I've passed up to say these three short words. It takes about a second.
---
Knowing that Dad's life will be shorter than we ever imagined is a gift. ...Without the knowing, there would be no increased efforts to change.
---
Paradoxically, knowing that Dad's life will be shorter than we ever imagined is a gift. It's bittersweet and unsolicited, but a gift all the same. Without the knowing, there would be no increased efforts to change. And without these efforts, there would be fewer positive, inspiring and downright miraculous changes and interactions in our family.
Generally speaking, most people haven't been told that someone they love has six months (give or take) to live. But we do know that time with loved ones is a gift, one that can be taken away with little or no notice. My family has experienced remarkable blessings as we have tried to spend that valuable time on what's most important, leaving the rest behind.
There was nothing preventing us from making these extra efforts long before my dad's diagnosis.
In short, we love each other more, we love each other deeper and we love each other better. This is worth a great deal more than any gift that will appear under our tree this year.
---
*
About the Author: Susie Boyce -----------------------------

Susie Boyce is a mom, writer and public speaker. Her column, "Momsensical," is featured in North Dallas-area newspapers and posts bimonthly on ksl.com. Visit her website at www.seriousmom sense.com.*

×
Photos
Related links
Related stories
Most recent Home & Family stories