Estimated read time: 2-3 minutes
This archived news story is available only for your personal, non-commercial use. Information in the story may be outdated or superseded by additional information. Reading or replaying the story in its archived form does not constitute a republication of the story.
Sam Penrod and Nicole Gonzales reportingPostal workers will process millions of pieces of mail tomorrow as part of a big holiday rush of packages and cards.
Monday is expected to be the busiest day of the year for the U.S. Postal Service. The surge in mail comes about a week before the Christmas holiday.
A lot of people probably have writer's fatigue after spending the weekend writing and addressing Christmas cards. Those cards, as well as millions of packages of holiday gifts, are expected to be mailed tomorrow.
If you don't want to stand in the regular line at the post office, you may want to try using an automated postal center. They can handle 80 percent of all post office transactions, even packages. They require a debit or credit card.
The automated machinery will help the post office survive millions of pieces of mail that will go into the system Monday.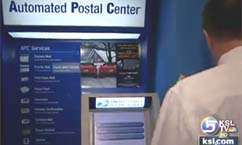 Imagine going to work Monday, finding twice the workload on your desk, and knowing it all must be completed on time. That's what post office employees face during the holidays, especially Monday.
Ron Hubrich of the U.S. Postal Service said, "Here in Utah we'll get several million pieces, just cards and letters coming through our office from people sending out from Utah, not counting millions coming in from outside Utah to be sent to individual homes."
We got a look behind the scenes at the Post Office Mail Processing Center in Salt Lake City. Almost every piece of mail that is delivered to you, goes there first.
Automated trains deliver mail from one sorting machine to another, and then individual letters are sorted in just seconds. It takes technology to process all of this mail, and the postal service is bringing more options to the customers.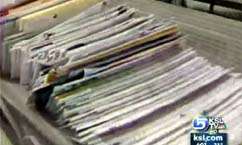 "You've got a lot of alternatives," Hubrich explained. "You've got USPS.com. You can print out your slip with your postage on it from home. You slap it on a package. You don't even have to leave your home."
The automated postal centers are located in 29 post offices in Utah and allow you not only to buy stamps, but even mail packages. They are available 24 hours a day and seven days a week.
"Mail early. Now it's late for early, but mail as soon as you can. Get it out Monday, Tuesday at the latest, if you still want it to arrive before Christmas," Hubrich said. "You can send priority mail, express mail, even the last few days."
Even with priority and express mail, there are deadlines if you want a guarantee on when it will arrive.
If you are sending international mail, you'll have to send it express on Monday. Priority mail in the U.S. has to be in by Thursday, and express mail by Friday. The postal service will deliver on Dec. 24.
×
Related links
Most recent Utah stories