Estimated read time: 2-3 minutes
This archived news story is available only for your personal, non-commercial use. Information in the story may be outdated or superseded by additional information. Reading or replaying the story in its archived form does not constitute a republication of the story.
SOUTH PASADENA — A teenager's call for modesty has sparked off a national debate about objectification and respect among both women and men.
Saige Hatch, 15, started the South Pasadena High School Modesty Club in September to fight against popular culture she said sexualizes women and girls. So far, the club has members in all 50 states and in 14 countries — with a handful of members at Saige's high school.
"I noticed from elementary school to middle school, and now in high school a lot of girls were dressing immodestly," she wrote on the club's website. "I wanted to bring awareness and remembrance to the value of modesty."
The club led South Pasadena Mayor Michael Cacciotti to proclaim Dec. 3–7 "Modesty Week" in the city, but the club has not been without its detractors.
"My van was egged, people graffitied on it," said Saige's father, Brent Hatch, a cousin of Sen. Orrin Hatch, R-Utah, to ABC News. "We had people call our house making threats again."
Again, because the Hatches went through a similar experience in 2008, when Saige's brother, McKay, started a No Cussing Club. That club, too, made national headlines and spurred thousands of hate messages. The Modesty Club's website received a few hateful messages so far, and people have reacted online with varying degrees of support or vitriol.
"Some people get angry about it," Saige told the Los Angeles Times. "I'm just trying to bring awareness. I'm not trying to force anyone. Obviously, they have their right to choose."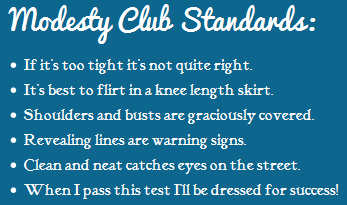 The Modesty Club asks girls to choose to cover up — by wearing knee-length skirts and making sure their shoulders and chests are covered.
"This club is set up under the notion that we are not perfect; we are trying to be better today than we were yesterday," Saige wrote on the website. "We support the honor, dignity, and beauty every person is entitled to."
This isn't the first time this year the issue of modesty at junior high and high schools has gotten attention nationwide.
In Utah, a Tooele teen made headlines after being told her skirt was a half-inch too short and she would have to change. The incident sparked a nationwide debate over whether the school's dress code was too strict. And in October, dozens of teens were sent home from a Stansbury park homecoming dance for wearing what administrators said were inappropriate dresses. A make-up dance was later held.
×
Photos
Related links
Related stories
Most recent Lifestyle stories