Estimated read time: 2-3 minutes
This archived news story is available only for your personal, non-commercial use. Information in the story may be outdated or superseded by additional information. Reading or replaying the story in its archived form does not constitute a republication of the story.
Debbie Dujanovic reporting
Produced by Kelly JustHow to lose your life savings in less than a year -- a new best-selling book? No, it's real life for more than 100 Utahns who were counting on a Bluffdale businessman by the name of K.C. Tebbs.
We first reported troubles with Tebbs' land investments last month. Debbie Dujanovic kept digging and has now uncovered new trouble. His apparent sales savvy swept plenty of investors right off their feet. Or maybe he was just a wizard with scissors.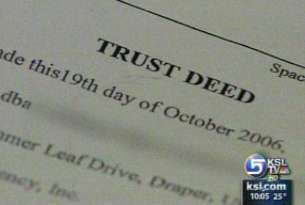 We kept looking into Tebbs and discovered his real estate deals may have looked great on paper. He liked to tell people, "your money's as good as gold with me." Ray Merkely invested with Tebbs, who runs MNK investments and Twin Peaks Financial Services. Merkley put in $344,000, but instead of striking gold, his money's gone.
"It's our life savings, plus we mortgaged our property to do this, so I'll be paying on a mortgage for a lot of years," Merkley said.
Like dozens of others, Merkley's cash was supposed to buy residential lots in booming areas of the Salt Lake Valley. He thought his investment was safe when he got deeds of trust for the properties.
But when Merkley tried to verify the deeds, his heart sank. We found out why when we took two of his deeds to the Salt Lake County recorder, where they track property ownership. All it took was a quick computer check.
Salt Lake County recorder Gary Ott told us the deeds were, "...way fake. There's a multitude of things that are wrong here, but there's some blatant thing here, like the wrong type of document for what was recorded for this transaction."
Turns out, the documents Merkely got don't even match what's on file. A lot numbers are different and dates and recording codes are off. The properties Merkley thought he owned officially belong to other people.
Ott concluded the documents were cut, pasted, and copied. "This document was manufactured outside this office after we put a stamp on another document," he said.
Merkley told us, "I just couldn't believe somebody would take a government document and falsify it. That's pretty serious."
Merkley filed a formal complaint with the state, along with several others. We've learned the FBI is joining the state's investigation. And it may not stop at Tebbs. We're told people got a cut to bring others investors to the table; if they weren't licensed to sell real estate, they could be in trouble, too.
As for Tebbs, he referred us to his attorney, and we haven't heard back.
×
Most recent Utah stories