Estimated read time: 2-3 minutes
This archived news story is available only for your personal, non-commercial use. Information in the story may be outdated or superseded by additional information. Reading or replaying the story in its archived form does not constitute a republication of the story.
SALT LAKE CITY — Tom Hooper's "Les Miserables" is just a few weeks away from opening and fans of the popular musical cannot wait to see the director's vision.
The cast includes Hugh Jackman, Anne Hathaway, Sacha Baron Cohen, Amanda Seyfried, Helena Bonham Carter in a movie not directed by Tim Burton, and Russell Crowe.
Many people have been wondering, "Can Russell Crowe sing?" Well, the guy was the frontman for the bands "30 Odd Foot of Grunts" and "The Ordinary Fear of God," but that didn't seem to answer any questions.
A new clip titled "Parole" has been released and it features both Jackman and Crowe singing. And if you're wondering, the answer is yes, Crowe can carry a tune.
"Les Miserables" is due in theaters on Christmas Day.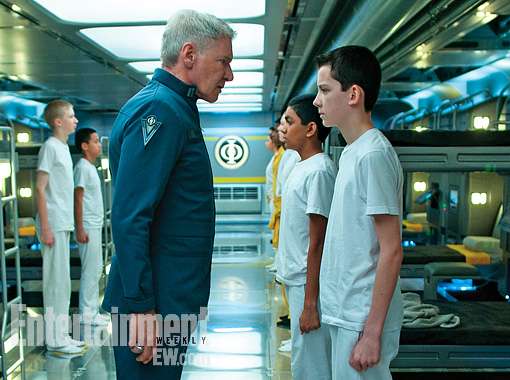 First "Ender's Game" Image
Fans of the popular book "Ender's Game" have been asking for a film version for years. It was announced that a film adaptation was in the works and had started filming, but fans had been burned so many times many were still skeptical.
Those fans can now put their worries to rest. The first official image from "Ender's Game" has been released.
The image shows Harrison Ford, Colonel Hyrum Graff, and Asa Butterfield, Ender Wiggin, in what appears to be a barracks.
The film follows the book of the same name, which tells the story of a gifted child sent to an advanced military school to prepare for a future invasion.
The film isn't due out until November 1, 2013, so this picture will likely have to hold fans over for some time.
What do you think of Russell Crowe's singing chops and what are your expectations for "Ender's Game"? Let us know on the comment boards, Facebook or send an email.
×
Related links
Related stories
Most recent Features stories