Estimated read time: 2-3 minutes
This archived news story is available only for your personal, non-commercial use. Information in the story may be outdated or superseded by additional information. Reading or replaying the story in its archived form does not constitute a republication of the story.
Sam Penrod reportingA new study finds college-age students are much more accepting of pornography than a generation ago. The study involves six colleges and universities around the country and was conducted by professors at BYU.
The study is actually part of a bigger study about the transition of college students into adulthood. It found that the acceptance and use of pornography among college students is growing, likely because it is widely available and distributed on the Internet.
The study questioned 813 college students at six institutions across the country and found that pornography is perceived as mainstream and acceptable among college students in the United States.
BYU professor Jason Carroll said, "We found that pornography is a common part of college life and young adult life in America. In fact, our data shows that pornography acceptance and use is as common on college campuses as drinking."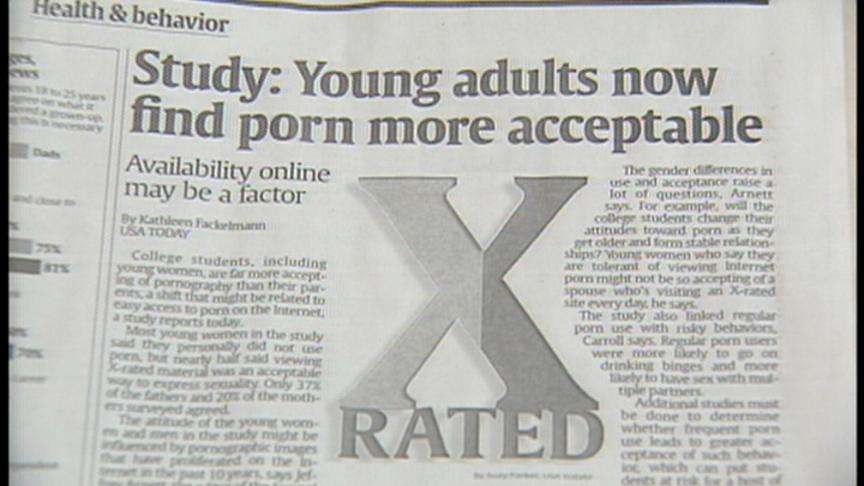 The findings appeared today in USA Today and show 67 percent of college men and 49 percent of college women believe pornography is acceptable. However, the parents of the students believe differently. Thirty-seven percent of the students' fathers agree and only 20 percent of mothers agree.
"Young people are more accepting of pornography and pornography use, have increased rates of binge drinking, risky sexual behavior, drug use and those type of things," Carroll said.
The study brings up the question of whether pornography use decreases as young adults mature, as drinking and drug use declines, or if it continues into adulthood.
BYU professor Larry Nelson, asks, "What are these young men going to do? Are they going to change their behaviors as they get married or will they hide it? Will it continue and cause problems?"
The study found that the growing availability of pornography, mostly through new technology, makes it difficult for parents to shield their children from it.
Carroll said, "It's going to be much more tougher for parents to filter or eliminate exposure to this type of material, and it's really going to come down to young people making choices and decisions to filter that in their own behavior."
The study, titled "Generation XXX: Pornography Acceptance and Use Among Emerging Adults," will be published in the January issue of Journal of Adolescent Research.
×
Most recent Utah stories