Estimated read time: 2-3 minutes
This archived news story is available only for your personal, non-commercial use. Information in the story may be outdated or superseded by additional information. Reading or replaying the story in its archived form does not constitute a republication of the story.
With Rick Majerus ' passing fresh on everyone's mind, Utah Athletics Director Chris Hill held a press conference Monday afternoon to talk about the legendary former Ute basketball coach.
"He died way too soon at 64," Hill said. "We've enjoyed a legacy that's deep and will belong. And in a school like ours that has such a basketball tradition, that's a heckuva comment."


The Utah athletics department will pay tribute to former basketball coach Rick Majerus at tomorrow's men's basketball game against Boise State. Fans will receive a patch in his honor (refer to attached image) and the players will wear a red patch bearing the initials RM on their uniforms for the remainder of the season. Prior to tipoff, there will be a moment of silence and the showing of a commemorative video.

Later this season, Utah will retire a replica of Rick's sweater and hang it from the rafters.
Majerus passed away Saturday in Los Angeles while awaiting a heart transplant. Majerus had a history of heart problems, including seven vessel bypass surgeries in 1989. But that didn't stop him from coaching Utah to 323 victories.
Majerus coached the Runnin' Utes from 1989-2004, leading them to the NCAA Championship game in 1998. He was named the 1998 John Wooden National Coach of the Year after his Utes played Kentucky for the national championship. The No. 3-seeded Utes defeated two No. 1 seeds (Arizona and North Carolina) during their run that year. In his 15 seasons, Utah earned a bid to the NCAA Tournament 11 times, making the Elite Eight in 1997 and the Sweet 16 in 1991 and 1996.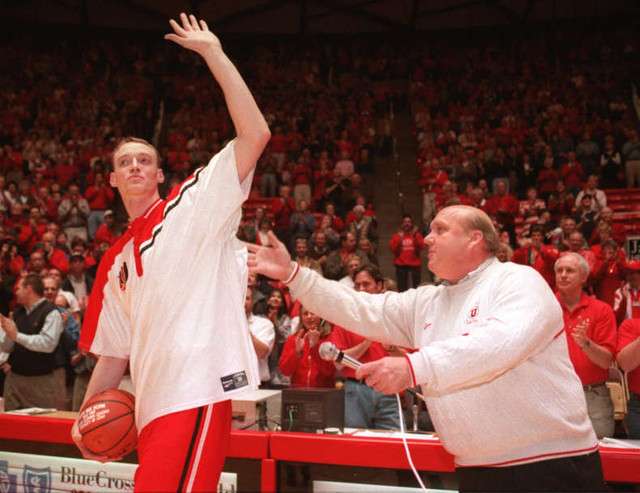 "In regards to his record: It's off the chart," Hill said. "We all know that. He won more than somebody could win. He had the preparation, attention to detail, motivation of players, (and) development of players was unsurpassed."
An exact replica of Majerus' trademark sweater will be retired in the rafters. He will also be placed in the Crimson Club Hall of Fame, but Hill has higher hopes for his late friend.
"We know it will be an easy result to get Rick into the national hall of fame for coaches," Hill said. "His career exploded during his time here and the University of Utah's recognition exploded following his wake. Essentially he was a genius in basketball."
Utah will hold a moment of silence to remember Majerus before Wednesday's home game against Boise State. Further commemorations are in the works and will be announced as time goes by.
Alex Rivera is the assistant sports editor of the UVU Review. You can contact him at arivera.2011@hotmail.com or through his Twitter account @A_River_Uh.
×
Related stories
Most recent Sports stories