Estimated read time: 3-4 minutes
This archived news story is available only for your personal, non-commercial use. Information in the story may be outdated or superseded by additional information. Reading or replaying the story in its archived form does not constitute a republication of the story.
My earliest memories of Utah basketball are of watching guys like Mitch Smith, Manny Hendrix, Jimmy Madison, Gale Gondrezick, and Kelvin Upshaw. I don't remember a ton from those years but I always wanted to go see MY Utes up at the Special Events Center. I do remember Lynn Archibald being the Head Coach, but not much else.
Then everything changed.
Related:
Rick Majerus happened.
I remember he was hired and couldn't coach because of heart bypass. I didn't know how serious it was. My grandfather had a quadruple bypass around that same time and I quickly learned what a bypass was.
After he got better, Grandpa Fred would take me to the basketball practices at the Huntsman Center. I think if my mother or grandmother knew the things I heard they wouldn't have let me go, but Grandpa and I didn't tell them.
Grandpa introduced me to Coach Majerus and even though he wasn't necessarily tall, he was larger than life. He had big thick hands, a pot belly that we all know never ended. I remember him being cordial, probably because I was with my grandpa (He was probably thinking, get this kid out of my gym).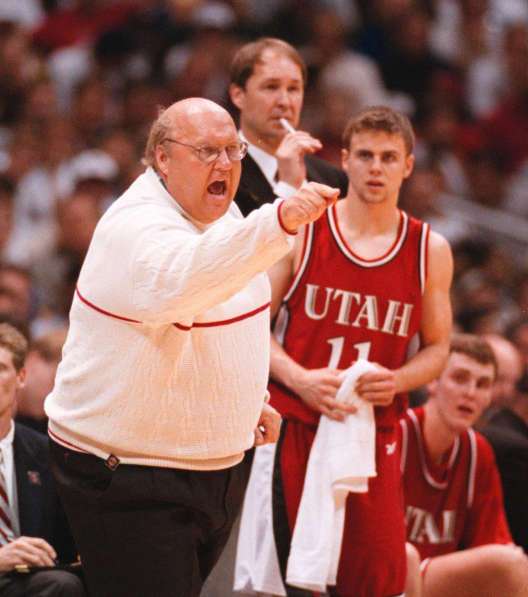 Grandpa took me often to see the Utes practice. I would go after school and I vividly remember a new recruit named Antoine Davison. Davison was a highly sought after player that had some academic issues and a shady past, he might have been part of the old "Prop 48" program. Davison could not get something right on this particular day or practice and he ran for it.
He ran.
He ran.
He ran some more.
I remember him running the stairs at the Huntsman Center. He ran all over the place.
Poor Antoine Davison. That is the only thing I remember from him.
I remember Coach Majerus teaching and specifically teaching defense. He taught technique and positioning. His technique began with knees bent at a 90 degree angle and your back straight with your head on a swivel. The player needed to see ball and man at all times. Then came the part where he taught positioning. Oh the positioning! He stopped practice because Larry Cain was maybe a millimeter from where he should have been. Then, the team ran. They continued until they got it right.
I remember going to the practices and then the games to see if the team could respond to the coaching. They did defensively at least. That is all they ever worked on in practice was defense. I hardly ever remember seeing them practice any offensive sets until the actual season started. Then I got my first taste of the flex offense and the "Wheel".
Those were some amazing teams that came through the Huntsman Center. The Josh Grant and Jimmy Soto years were amazing for a young basketball fan. Two local kids playing for the local University was the best. Then came Keith Van Horn and Andre Miller. In my memories they never lost a game. I swear I will always remember Andre Miller in the 1998 NCAA Tournament. Those memories are mine with the help of Rick Majerus.
I think I am most grateful to Coach Majerus for giving my Grandpa Fred the opportunity to be a part of something. Grandpa was a Ute. He played ball there and won a title in 1947. He was a huge fan of everything Utah in his retirement years but basketball was his love. Coach Majerus let him extend that love affair with basketball as long as he was there. Coach gave him access to the gym, the coaches, and the players. Grandpa loved it. Grandpa loved Coach Majerus.
My grandpa died a few years ago, basically of a bad ticker, it just wore out, just like coach. Guess who sent flowers? Rick Majerus. That is how I will remember him.
×
Related stories
Most recent Sports stories