Estimated read time: 2-3 minutes
This archived news story is available only for your personal, non-commercial use. Information in the story may be outdated or superseded by additional information. Reading or replaying the story in its archived form does not constitute a republication of the story.
STATEN ISLAND, New York — A group of missionaries for The Church of Jesus Christ of Latter-day Saints helping with post-Sandy storm cleanup on Staten Island were surprised to open a safe meant for the dump and find more than $25,000 in cash.
The group had been serving in the Staten Island area when the storm hit and had been helping with cleanup instead of proselyting in the weeks since. When they entered one older gentleman's home, they found it filled with years of possessions — so many that they could tell he wasn't aware of what was in every room.
"Everything was wet and damaged," according to Shawn Taylor, the brother of one of the missionaries. "They were hauling off stuff that had been there for years."
Taylor communicated via email with his brother, who said the group eventually found an old safe in the house.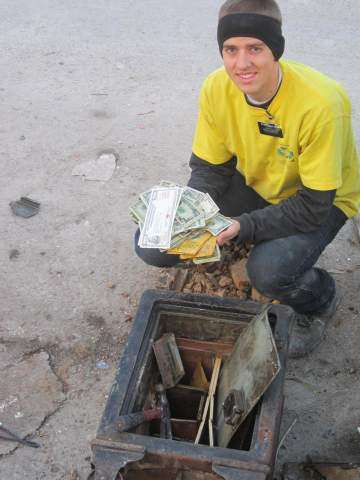 "The man had forgotten it was there," Taylor said. "He didn't know what was in it or how to unlock it, so he told them just to throw it away."
Instead, the curious missionaries decided to open the safe and see what was inside. After a little effort, they were successful — and couldn't believe what they were seeing.
"They found a lot of old cash and financial documents," Taylor said. "It had been sitting there for so many years, the gentleman didn't even know it was there. It didn't look like there were any bills newer than the 1960s."
The missionaries were excited to give the money to the man, who told them they should keep it for themselves. But they told the owner of the safe they weren't there for the money; they were there to serve. Instead, he should use it to rebuild after the storm.
"The man was just thrilled," Taylor said.
Taylor's brother, who wished to remain unnamed to keep the attention focused on the service the missionaries were doing, told him he thought more about what his message was as a missionary over the past few weeks than at any other point during his mission.
"He brought people to the church during his mission, but it was the service in action that made him really think about why he was there," Taylor said. "He believes he has touched more peoples lives by being there for hours a day, serving, than by anything else he could be doing."
×
Related links
Related stories