SALT LAKE CITY — The majority of parents are concerned with what their teens are doing online, but most do not take active roles in their teens' online lives, according to a new study.
A study by the Pew Internet and American Life Project found that 81 percent of parents of online teens ages 12–17 are concerned about how much information advertisers are able to learn about their children's behavior. About 46 percent were "very concerned."
Another concern was how teens interact with strangers online: 72 percent of parents were concerned, with 53 percent being "very concerned." And 69 percent of parents were concerned about how their teens manage their online reputation, with 49 percent being "very concerned."
Some parents allow their children on social networks despite the risks because of the potential benefits; Kati Price of Saratoga Springs is one of them.
"I like having the opportunity to teach (my son) proper interaction with people online," Price said. She said she thinks 13 is a bit young, but tries to remember times have changed. "I think 13 is a good age to be able to teach him all these things so that when he is a bit older and using them more frequently, he will be well educated."
While the majority of parents have concerns about their social networking teens — 75 percent of teens as a whole have social networking accounts — many are choosing not to act on their concerns.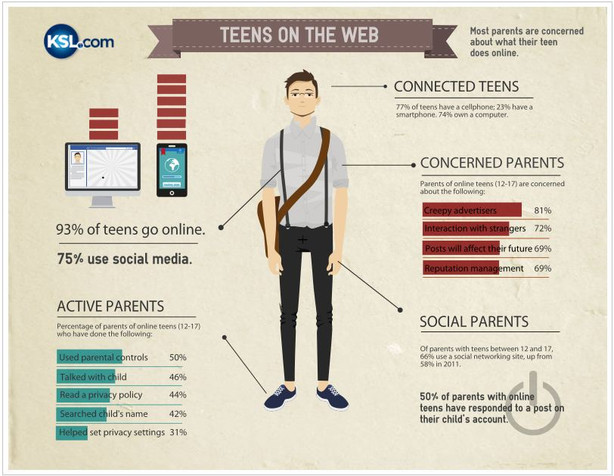 While half of parents have used parental controls, less than held have talked with their child about their social networking accounts, read a privacy policy or searched for their child's name online. And less than a third have helped their teen set their privacy policies.
Parents who are actively involved in their children's online lives stress the importance of there "being no secrets."
"I watch who they talk to and who they are friends with," Heather Smith said on the ksl.com Facebook page. "I have changed all their settings to be as safe as possible, and if they are doing something they shouldn't be, they lose their account."
The Center for Missing and Exploited Children urges parents to follow safety guidelines with teens online. Parents should be aware of who their children's friends are and make sure their children know each of their friends in person.
Additionally, having profiles set to private is helpful, although there are ways around privacy settings. With more complicated privacy settings — such as with Facebook — teens may need help navigating the controls.
×
Related Links
Related Stories