Estimated read time: 2-3 minutes
This archived news story is available only for your personal, non-commercial use. Information in the story may be outdated or superseded by additional information. Reading or replaying the story in its archived form does not constitute a republication of the story.
GRAND CANYON NATIONAL PARK — A photo of a woman apparently falling into the Grand Canyon has gone viral, but the prank has raised concerns that it went too far.
Samantha Busch, 22, of Westmont, Ill., told ABC News she sent the photo to her mother and co-workers after her mother warned her prior to her trip about being safe at the Grand Canyon.
"For five days up to when we left, my mom had warned me about falling off the cliff or being blown off," Busch said. "So when we were hiking around the corner, I found a good spot where I could stand on the ledge. He angled the camera just right and he took a great picture."
Busch said her mother was not amused by the photo, but was not angry.
"She's fine. She wasn't even angry. She was just relieved upset," Busch said.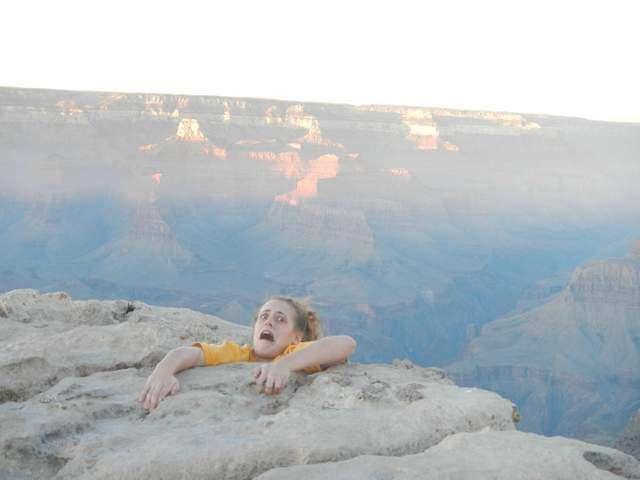 Busch posted the photo on the social website Reddit, where it was quickly voted to the top of the website's homepage. Some users pointed out that despite it being a prank, the danger is real.
"Funny, yes. But when I visited the Grand Canyon, they were running search missions for a missing hiker (tent at campsite, but no one there for a long time). Never found him, as far as I know," posted user DanN58. "But...they did find another unrelated body that fell off the Rim that no one knew was there. Grand Canyon can actually be a seriously dangerous place."
Other comments were along similar lines.
My sister-in-law went to the Grand Canyon and when she saw that there were no guardrails became so worried and nervous for everyone (EVERYONE) visiting that she had to leave," posted user local_weather.
Busch said she was standing on a ledge for the photo, and it was the angle from which the photo was taken that made her appear to be in danger.
×
Related links
Related stories
Most recent Features stories