Estimated read time: 2-3 minutes
This archived news story is available only for your personal, non-commercial use. Information in the story may be outdated or superseded by additional information. Reading or replaying the story in its archived form does not constitute a republication of the story.
SALT LAKE CITY — A few controversies involving Christian displays or productions have been resolved this week.
Lawsuit Over Nativity Display Dismissed
In Los Angeles, a federal judge on Thursday dismissed a Christian group's lawsuit to force Santa Monica to reopen spaces in a city park to private displays, including Christmas Nativity scenes.
The judge issued the ruling after earlier this month denying the Santa Monica Nativity Scenes Committee's motion for an injunction.
Christmastime Nativity scenes were featured in Palisades Park for decades. Last year, atheists overwhelmed the city's auction process for display sites, winning 18 of 21 slots and triggering a bitter dispute.
The city then banned private, unattended displays at the park.
An attorney for the Christian group says he plans to appeal the ruling.
Kansas Town's Sign Coming Down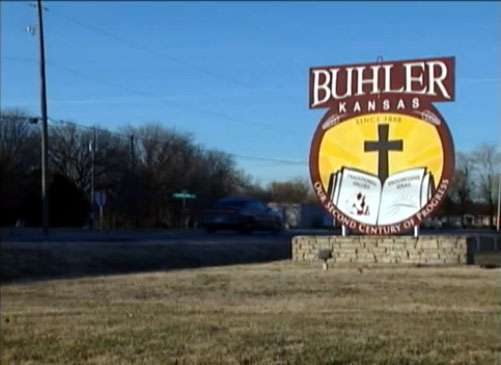 The official city sign in Buhler, Kansas has been there for years. But now it's coming down, according to KSNW, because a group threatened to sue. The sign bears the image of a "traditional" Christian cross.
"Yes, we wrote them a letter to tell them what they were doing was illegal," says Annie Laurie Gaylor, with a group called Freedom From Religion.
"This is not a Christian nation," said Gaylor. "This (sign) sends an illegal message of favoritism of Christianity over other religions and you can't do that."
Citing concerns over the cost of litigation for the small town, Buhler city council members this week decided to take the sign down and move it to private land across the street.
Another sign with "traditional" Christian values may be placed there, too. Those new signs will be funded with private monies.
A contest is being held to find a design for a new city sign.
Trip to 'Charlie Brown Christmas' Called Inappropriate
In Arkansas, an elementary school's plans to see a production of "A Charlie Brown Christmas" at a local church drew protests. An atheist group claims the trip "violates religious freedom" and entirely oversteps the line between church and state, according to The Huffington Post.
A letter sent home to parents allowed them to have their student opt out of attending the program. "This production does expose your child to Christianity through some of the songs and scenes. (If you prefer your child to not attend the program they may stay at school and be allowed to sit in another classroom)," the letter said in part.
The society says it's not against Charlie Brown, but objected to the religious message and religious venue.
The church sponsoring the production released a statement saying, "We hope the complaint or question of a few does not override the opportunity for everyone."
×
Photos
Related links
Related stories
Most recent Features stories