Estimated read time: 3-4 minutes
This archived news story is available only for your personal, non-commercial use. Information in the story may be outdated or superseded by additional information. Reading or replaying the story in its archived form does not constitute a republication of the story.
SALT LAKE CITY — What started as a school project for two University of Utah students turned into a collaboration between the city and a west side community to turn a local business into a work of art.
The three main components of the new facade of Andrus Sales & Service at 730 W. 900 South in Salt Lake each represent an integral factor in the business' success: the brick reminds visitors of the building's history; the metal panels, the business itself; and the graffiti, the personality of the surrounding neighborhood.
Robert Tranter and Jeffrey Baird came up with the idea for the building after being assigned for an architecture class to find a local business that would allow them to draw up theoretical plans for a renovation. The project was never meant to become more than lines on a piece of paper, but Steve Andrus liked the idea so much he decided to make it a reality.
"He got excited and said, 'Let's do it," Baird said. "He was great to work with. he didn't even know us and was invested in our education, and he knew the building needed a new look."
A grant from NeighborWorks, in partnership with Salt Lake City, made the project possible. The steel panels that now cover the front of the building are from Andrus' own products, and the painting on the storefront was done by a local graffiti artist who goes by the name Burcs.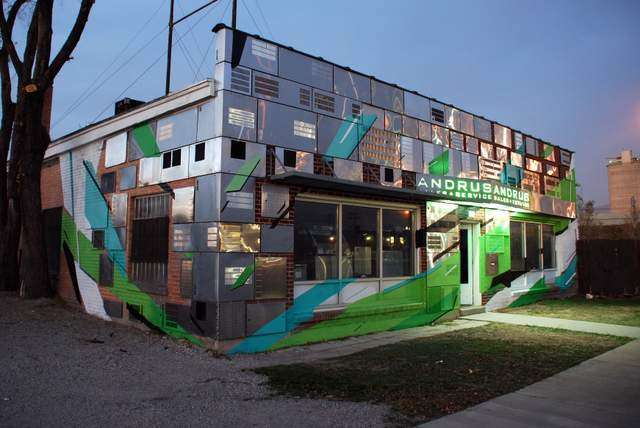 "The panels speak about his business," Tranter said. "A lot of people visiting his shop will know where these panels have been if they look closely. The paint weaves in and out of the panels to show that each part — the bricks, steel panels and graffiti — plays an important role."
The assignment, started in January and meant to be completed by the end of the semester, became a summer project for both of the students, and eventually ended up extending into the fall semester.
"It always takes longer than you think it will; it's always more intensive than you think it will be," Baird said. "Between coordinating everyone's time and getting everything up to code, it turned into an 8-month project instead of a 4-month project."
Part of the difficulty was making sure the project was up to code — the building was so old its features had been grandfathered into most current city codes, which meant any changes had to comply with current regulations, rather than the regulations the building had complied with in the past. And then there was the knowledge that while this had started as a school project, it had grown into something much larger.
Those involved in the project:
NeighborWorks
Steve Andrus: Owner of Andrus Sales and Service
University of Utah College of Architecture & Planning
Mimi Locher, Associate Professor
Robert Tranter, Design Team
Jeffrey Baird, Design Team
Nolan Balls with Calder Richards Consulting Engineers donated time to structurally engineer the awning and sign.
Burcs Mason, Graffiti Artist
"We were dealing with real money and real issues," Tranter said. "We leave this project when it's completed, but this is (Andrus') business. It was a lot of responsibility."
The two hired help to install the steel panels, but spent much of their time coordinating with Andrus and Burcs. Everyone had a different vision for the building, and compromises had to be made. Finally, a few weeks ago, the two got a call: the last of the steel panels were up, and the signs were lit.
"It was that feeling of euphoria you get when you complete any big project," Baird said. "It feels so good to accomplish something you didn't think you could."
The pair said the building, already in an eclectic neighborhood — "There's a pyramid in that neighborhood," Baird said — has drawn a lot of attention from passersby.
"Whether you like it or not, it's different. People who wouldn't normally think twice about what's in that store will remember it," Baird said. "The owner loves it, and we're proud of it."
Top image left, new storefront; right, old storefront
×
Photos
Most recent Utah stories