Estimated read time: 4-5 minutes
This archived news story is available only for your personal, non-commercial use. Information in the story may be outdated or superseded by additional information. Reading or replaying the story in its archived form does not constitute a republication of the story.
SALT LAKE CITY — Long red hair flowing over her black ski jacket, 15-year-old Jocelyn Garlick called out, "Love you too!" to her parents as she raced down the mountain one beautiful spring day in 2008.
The Garlicks' way of saying goodbye when they parted company was to always express love in some way, and those three words — "Love you too!" — were the last three words her parents, Dean and Lisa Garlick of Logan, Utah, ever heard their beloved daughter say to them.
A serious student (but silly when she wasn't studying), a beautiful girl, a vivacious personality, and a devoted friend, Jocelyn Garlick, known as Jocie or Jiggy, skied expertly through some trees before losing her life in a tragic ski accident that day.
Brokenhearted, Jocie's family searched for ways to do the impossible: live without their daughter. "At first, my heart hurt so much I didn't think I could possibly survive the pain." Lisa said. "We know we'll see Jocie again, but we miss her. It feels like a long time before I'll hug and kiss my girl.
"Some suggested we do our best to 'move on' and 'forget' after our daughter's death," Lisa said, "but we've found healing by remembering her and honoring her life. After all, we believe we will be with her forever. Shouldn't we continue our relationship now?"
---
At first, my heart hurt so much I didn't think I could possibly survive the pain. We know we'll see Jocie again, but we miss her. It feels like a long time before I'll hug and kiss my girl.
–Lisa Garlick
---
Through quilting, beekeeping and reaching out to other parents who've lost children, the Garlicks honor their daughter's life and heal their still aching hearts.
"At first," Lisa says, "I couldn't even look at my sewing machine or my quilts or any of the creative things I'd always loved.
"There didn't seem to be any point. What was the use of my silly projects in this life when you can't take anything with you? But one day my husband said to me, "Maybe your quilts will help you heal? Maybe you can help others heal?'"
With great trepidation, Lisa opened her daughter's closet and began cutting up designer jeans to make a quilt in honor of Jocie. That first quilt was given to Jocie's best friend and the creation of it was so healing that Lisa began working on another — and another. Soon she was creating quilts for other families who had lost children.
Inspired by Lisa's quilt making, Jocie's father, Dean Garlick, began nurturing backyard beehives shortly after his daughter's death. He was craving life — teeming, productive life such as in a hive of 60,000 bees.
Donning his white bee suit and ambling to the hives behind his home, he inspected each frame, named his queens and eagerly awaited the harvest. He found solace in the orderly, predictable realm of the hive.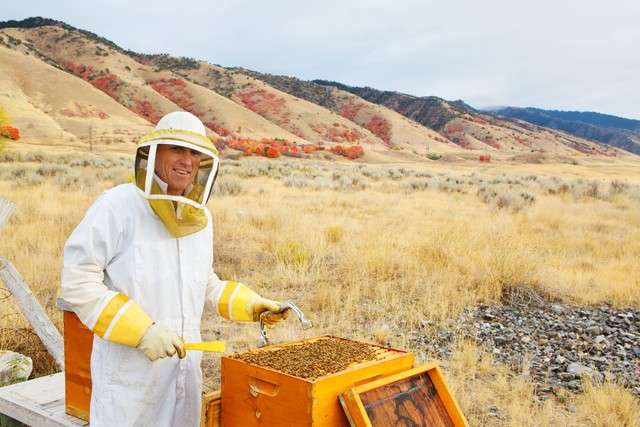 The first honey harvest felt like a miracle. Putting out boxes and frames and expecting these little bugs to leave golden, rich honey seemed almost arrogant. Yet, at the end of the summer the hives were full of honey. Soon, so were the Garlick's pantry shelves.
But for Dean, the honey was just a start. He eyed the golden beeswax that remained from the honey harvest. Thinking about how his beautiful red-headed daughter always carried lip balm in her pocket, Dean pulled out his chemistry vials and created Jiggysticks — a natural beeswax lip balm.
"Every time someone says 'Jiggystick' out loud I smile from ear to ear," says Dean. "Just hearing my daughter's nickname makes me happy. We are preserving her legacy and doing good in her name.
"Since Jiggysticks bear my daughter's name, I've ensured they are the highest quality with reasonable prices." Dean said. "I like to think they would be my Jocie's favorite brand."
A nonprofit company, Jiggystick.com sells 10 flavors of lip balm, six scented lotion bars and gift bundles, including the Garlicks' fresh Logan honey. Every few months, they also produce a Jiggystick flavor in memory of another child whose life was cut short: Huckleberry Hike for 18-year-old Parker Fairbourne Bradford, Alissa Berry Berry for 19-year-old Alissa Berry, Avery's Awesome Orange for 9-year-old Avery and Coconut Kellie Lime for 19-year-old Kellie. The specialty flavors are gifted to the children's parents to pass out to their family and friends.
"We won't take money for those. Not ever." Dean says. "As parents who have lost a child we know how much it means to have your child remembered and acknowledged. We know the pain; we have to help others."
"Missing Jocie will never go away," Lisa pointed out. "It's like wallpaper. It's always there. But we feel more joy than I thought possible in those early months of grief. And we try to live as Jocie did: joyfully, enthusiastically, with our arms and hearts opened wide."
Writer, photographer, Michelle Lehnardt is raising five future fathers and one little mother. She write at scenesfromthewild.blogspot.com on building chicken coops, hosting tea parties and missing her missionary son in Italy.
×
Photos
Related links
Most recent Lifestyle stories