This archived news story is available only for your personal, non-commercial use. Information in the story may be outdated or superseded by additional information. Reading or replaying the story in its archived form does not constitute a republication of the story.
SALT LAKE CITY — A vinyl saying graces the wall above my kitchen table, "In Everything Give Thanks." Yet, admittedly, I rarely notice it.
I think I did at first — maybe when we first moved in. But now the vinyl letters are just a regular part of my kitchen — just like the flour and sugar canisters on the counter.
But I should notice the phrase. I should pay attention to it. It should be more than black letters on my wall. It should be a way of life, and not just because then the glass will always be half full, but grateful people experience significant benefits from their gratitude as well.
New York Times best-selling author Dr. Henry Cloud talks about these benefits in his book "The Law of Happiness." Cloud says, "Grateful people are happy people. People who are grateful and practice gratitude regularly have significantly different levels of happiness than those that don't."
Related:
Cloud explains that the research shows people who express gratitude are not just happier, but they have more energy and better outlooks on the future too. They are physically healthier, have less emotional and psychological maladies, and are more rational. They also are less envious and less materialistic — all because they are thankful.
At this time of year, with Thanksgiving upon us, it is easy to fill our hearts and our minds with the things for which we are grateful. But being grateful people is something we should strive for year round. It's just not always as easy to stay in a thankful frame of mind — like always noticing the vinyl on my wall.
But we can learn gratitude. There are three things we can do to find happiness through gratitude all year long.
First, actually feel your feelings of gratitude. Cloud reminds us that only 10 percent of our happiness come from our circumstances; 50 percent of our happiness level seems to come from our genetics, temperament, etc. That means the remaining 40 percent of our happiness is actually born from our thoughts, our behaviors and our life practices.
If we can choose to think about our blessings and really feel the gratitude we have for the life we've been given, we can control almost half of our happiness potential. That's a lot of power.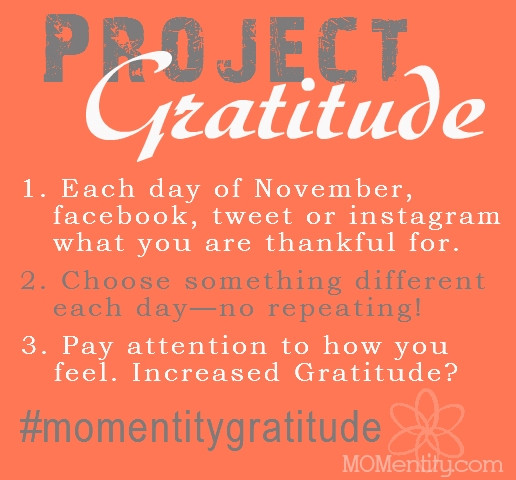 #project_gratitude
Second, put words to your gratitude. In her book "The How of Happiness," Sonjia Lyubomirsky says, "Experiments and clinical experience have shown that when people are given structured gratitude exercises — like writing down things in life that they are grateful for, keeping a gratitude journal, or calling and visiting people to express gratitude to them — they become happier as they practice those activities."
Write down the things for which you are grateful. Give them words. It's really that simple.
Third, express your gratitude to others. Once you know the things for which you are grateful, tell others about them. If it is the people in your life you are thankful for, make sure they know it. Give your gratitude a voice.
This month at MOMentity we challenged each other to Project Gratitude. Every day in the month of November we would post online one thing for which we are grateful. Each day had to be something different, no duplicates.
If you've spent anytime on Facebook or Twitter this month you've probably seen a lot of "I'm thankful for..." updates. By now you may even be tired of them. But the person (maybe it's you) posting each day the thing they are most grateful for is a happier person because of it.
When asked how Project Gratitude has helped her, Heather Anderson said, "It has helped me stop and look at the big picture and realize that it's the little things in life that matter. I'm happier now because I know that life is short so I need to make the most of it."
---
*
About the Author: Nicole Carpenter ----------------------------------

Nicole Carpenter is the founder of www.MOMentity.com and the creator of The MOMentity Process. She is a communications consultant, writer and speaker. She and her husband are raising four children, 7 years and younger, including twin toddlers.*

×
Related Links
Related Stories