Estimated read time: 4-5 minutes
This archived news story is available only for your personal, non-commercial use. Information in the story may be outdated or superseded by additional information. Reading or replaying the story in its archived form does not constitute a republication of the story.
ROOSEVELT __ As if her brother's death wasn't hard enough to deal with, Ricki Lynn Hackford is now trying to recover from an entirely unexpected trauma.
"I didn't even believe it. I didn't believe it," Hackford said Wednesday. "They kidnapped his body last night and no, as of now, we don't know where my brother is."
Teddy Derk Serawop, 32, died Nov. 5 in Salt Lake City. His body was transported to Hullinger Mortuary in Roosevelt the following day. That's when the family feud began.
"One of the sides wanted him to be cremated and one of the sides wanted him to be buried," said Roger Hullinger, the mortuary's vice president.
"Because of the authority of disposition, both sides had equal say in what was going to occur," he said.
Under the "authority of disposition," unless a person leaves behind written instructions about how their remains should be handled, the decision rests first with the deceased's legal spouse, then with the adult children and finally with the parents.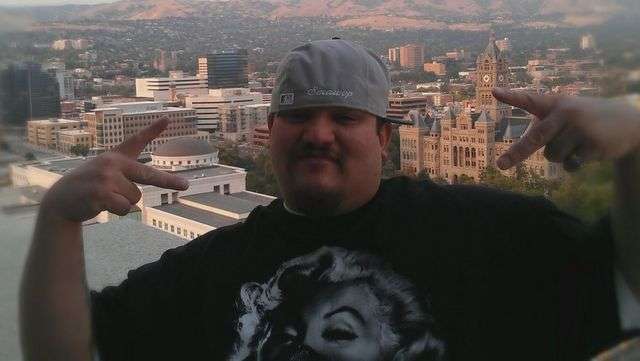 Serawop was a member of the Ute Indian Tribe. His father, who is also a tribal member, wanted him buried in a traditional ceremony. His mother, who is not a tribal member, wanted his remains cremated.
"We always talked about that after our first brother passed away," Hackford said, noting that Serawop had expressed his desire to have his ashes spread in the Uinta Mountains.
To add to the already contentious situation, a Ute tribal court judge granted the mother of Serawop's three children legal status as his common-law wife. That meant it was ultimately up to her to decide what would happen to the body.
Hackford and her mother both maintain that Serawop had broken up with the woman, and she had since married another man. They claim to have a copy of the woman's marriage license and wedding photos to prove their case.
Hullinger contacted his attorney about the tribal court rulings. He said he was told those rulings would have to be certified by a state or federal judge before they would be binding on the mortuary, which is not located within the boundaries of the Uintah-Ouray Indian Reservation.
But on Tuesday night, two Ute Tribal Fish and Game officers arrived at the mortuary dressed in plainclothes. While Serawop's tribal relatives sat with his body in a mortuary viewing room, the officers served Hullinger with a third Ute tribal court order and demanded that he release the body immediately.
"I said, 'I need to still hold him until all this dispute is taken care of,'" Hullinger said.
He was on the phone minutes later with two tribal attorneys and a member of the Ute Tribe Business Committee when he watched as one of the officers closed his office door. Shortly after that "my other funeral director slides the door open, walks in and says, 'He's gone. They've taken him. He's gone,'" Hullinger said.
---
When my other funeral director slides the door open, walks in and says, 'He's gone. They've taken him. He's gone.' For a minute I was like, 'What?'
–Roger Hullinger, Hullinger Mortuary
---
"For a minute, I was like, 'What?' and then I realized she was talking about the body," he said.
Hullinger said he made it outside in time to watch a pickup truck drive out of the mortuary parking lot carrying Serawop's casket. He called Ute tribal police, but said they declined to stop the vehicle.
Roosevelt Police Chief Rick Harrison said his department also received a complaint about the incident, but has deemed it a "civil issue" rather than a criminal one.
Ute tribal leaders issued a statement Wednesday accusing Hullinger Mortuary engaging in the kind of "unequal treatment and institutional racism" they say tribal members face every day in Duchesne and Uintah counties.
"I am shocked and dismayed at the level of disrespect and lack of sensitivity that Hullinger Mortuary has shown to the tribe and Mr. Serawop's family in this case," Ute Tribe Business Committee chairwoman Irene Cuch said.
Serawop's common-law wife and his family had every right to take his body from the mortuary, based on the tribal court's orders, Cuch said. He was buried Wednesday in the Randlett Cemetery "pursuant to the cultural traditions of the Ute Indian Tribe," according to tribal leaders.
Still, Hackford said her fight to retrieve her brother's body, so it can at least be reburied in a family plot in another Uintah County cemetery, is far from over.
"We have had no due process," she said, referring to the tribal court's handling of the matter.
"To do this they have to use due process, and they haven't," she said. "I'm appalled that the tribe can get away with this."
×
Photos
Most recent Utah stories