Estimated read time: 2-3 minutes
This archived news story is available only for your personal, non-commercial use. Information in the story may be outdated or superseded by additional information. Reading or replaying the story in its archived form does not constitute a republication of the story.
SALT LAKE COUNTY — They are some of the largest vehicles on Earth and they can be found right in Utah. Every day, these giant dump trucks move millions of pounds of rock at Kennecott's Bingham Canyon Mine.
As you look at the dump trucks, hauling ore out of the largest open pit copper mine in the world, it's easy to think those trucks are small until you see one up close.
"This is a Komatsu 930 SE," said Kennecott worker, Eric Eatherton. "The tires you are looking at are 12 1/2 feet tall. The truck is 29 feet wide and 51 feet long, a total of 1500 square feet."
Truck 409 is Kennecott's newest haul truck. Capable of carrying up to 320 tons at once, a loaded truck weighs in at more than a million pounds.
"We chose these trucks for this pit based on the size, based on the efficiency and based on how quickly they haul material," Eatherton said.
The work vehicles are so big, they have to be assembled on-site at Kennecott, after arriving from the factory in Illinois.
"It takes about 9 truck loads to bring all the parts here," said Rio Tinto spokesperson, Kyle Bennett. "We have a build team of seven individuals and they work 8:00 to 5:00 every day for about 15 days to put one of these trucks together."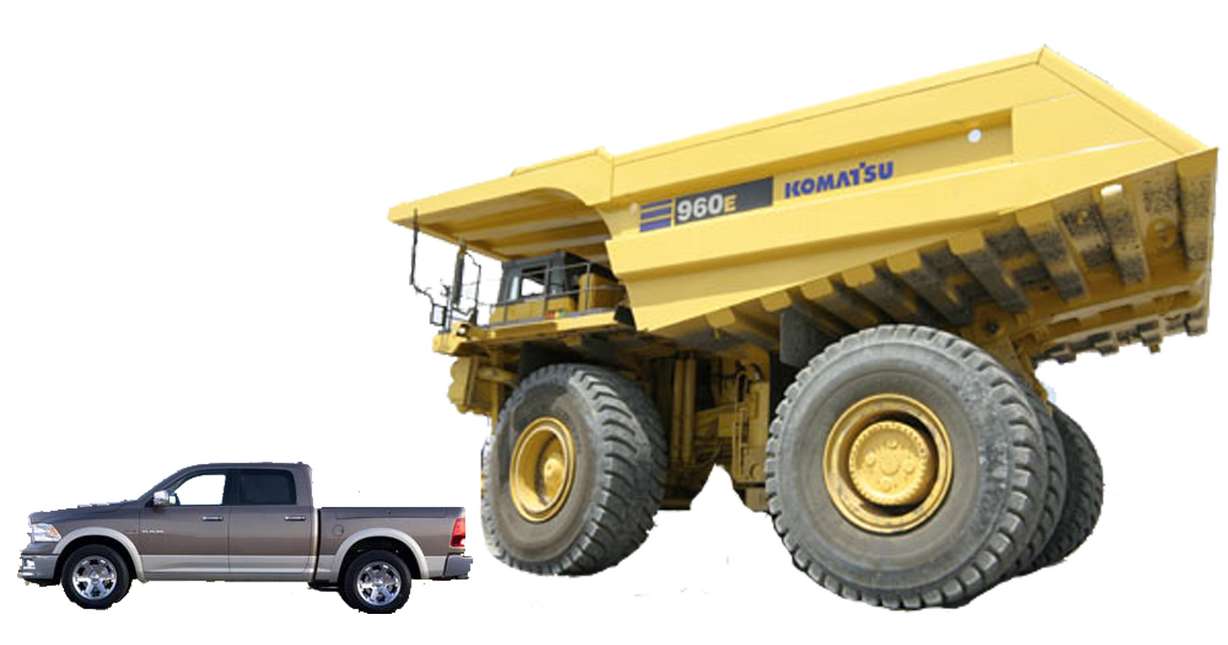 Info
Dodge
Komatsu
Height:
6.5 feet
12.5 feet
Width:
6.6 feet
29 feet
Length:
19 feet
51 feet
Capable:
1 ton
320 tons
Horsepower:
395
3500
Kennecott has now assembled 59 of what will be a fleet of 72 trucks at the Bingham Copper Mine.
To enter the truck, you can't just open a door and get in the driver's seat. Workers have to climb up a ladder and a flight of stairs.
The view from inside one of the giant dump trucks is impressive. Workers feel like they are in a cab like in a regular truck, but when they drive around in the giant sandbox of Kennecott mine, they are riding in what feels like a two-story house.
"At first it can be intimidating because of the sheer size of it," said truck operator, TJ McAdams.
But even though these trucks are gigantic, Kennecott says the new 3500 horsepower trucks are better for the environment.
"They reduce particulate matter emissions by 50 percent, and that's what is amazing despite the size of these trucks," Bennett said.
That efficiency comes because these trucks are truly a hybrid.
"This haul truck uses a combustion engine to drive an electric generator which then powers electric motors for propulsion," Eatherton said.
But not anyone can get behind the wheel.
"We put them in simulators," Bennett said. "They go through weeks of training and then before they go out on their own, they drive around with an instructor."
Definitely not child's play, but putting in a day's work in one of these, beats a desk job.
"It's awesome," he said. "We're all kids at heart and it's fun to watch these trucks."
×
Photos
Most recent Utah stories