Estimated read time: 2-3 minutes
This archived news story is available only for your personal, non-commercial use. Information in the story may be outdated or superseded by additional information. Reading or replaying the story in its archived form does not constitute a republication of the story.
SALT LAKE CITY — Drivers along North Temple saw something new Tuesday: trains on the airport TRAX line.
The Utah Transit Authority is testing the trains, albeit slowly. The test vehicle travels at walking speed with frequent stops, gradually working its way west to approximately the midway point on the line and then returns on the opposite track.
Low-speed testing will continue Wednesday and Thursday. More frequent and higher speed test trains will begin operating on the line as early as late November.
About the North Temple TRAX Line
A six-mile line that extends TRAX system from Arena Station at 400 West S. Temple to North Temple and the airport.
There are stations along North Temple; one at the airport.
Projected ridership of 14,000 daily in 2030.
Projected cost of $250-290 million in years of expenditure (2009-2012).
Source: UTA
Starting Dec. 9, Green Line riders will not be required to transfer at Central Pointe (2100 South) to continue downtown. They can stay on a Green Line train all the way down to Arena Station. It's only when they get there that they would need to transfer to a Blue Line train if they would like to continue further west to the Salt Lake Intermodal Hub.
The new line means good news for most businesses, but it could mean bad news for taxis. About 30 cabs are always parked at the airport, waiting to pick up passengers. Don Barron, director of Yellow Cab, said he wasn't nervous about the TRAX line because there was no way to stop it. But he admits it will have an effect.
"Every one of those people they haul will take away some of our business," Barron said.
He doesn't know how much it will impact his business, but the company will have to scale back the number of cabs at the airport when TRAX is fully operational on April 14.
Salt Lake's Downtown Alliance can't wait for the airport TRAX line to go live, as it expects a boost in clientele for restaurants and the Salt Palace.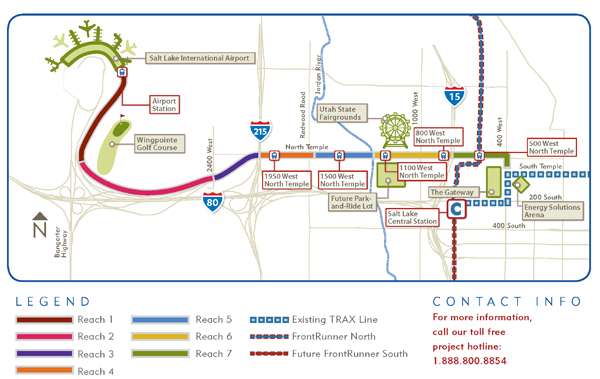 "We're building this infrastructure ahead of that population growth, so that's going to make this even more of an attractive place for business and families to relocate, and we have the infrastructure for that," said Nick Como with the Downtown Alliance.
The $350 million extension is scheduled to be operational by April. The six-mile airport light-rail line will have stations along North Temple at 500 West, 800 West, 1100 West, 1500 West, 1950 West and a Welcome Center station at Salt Lake City International Airport.
Passage from the airport to Arena Station at 400 West and South Temple in downtown Salt Lake City is estimated to take 20 minutes with trains departing every 15 minutes.
About 4,600 daily passengers are expected.
Contributing: Paul Nelson
×
Photos
Related links
Related stories
Most recent Utah stories