Estimated read time: 2-3 minutes
This archived news story is available only for your personal, non-commercial use. Information in the story may be outdated or superseded by additional information. Reading or replaying the story in its archived form does not constitute a republication of the story.
Tonya Papanikolas reporting Many of the circumstances of the deadly mall shooting in Omaha today closely mirror those of Salt Lake's Trolley Square shooting last February. The similarities bring up a lot of memories for Utahns, especially those who were affected by what happened.
We spoke to one man who works in the mall. He told us when a couple employees from his store heard about the mall shooting in Omaha, it reminded them of what happened at Trolley Square, and they were scared enough, they got other people to cover their shifts today. A social worker says that kind of reaction is normal when someone close to a tragedy is reminded of it all over again.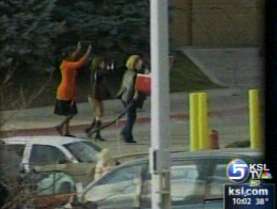 A gunman walking into a mall and opened fire. The situation is one Utahns remember all too well.
Shopper Andrew Galbraith said, "I thought about what happened here and how it affected those that I knew."
Greg Parsegov said, "It's a freak thing. I guess not a freak thing, it has happened two times already."
Nai Sok said, "I think it's a little shocking. It sounds like someone was trying to copycat the shooting."
And Katie Weldon said, "It makes me feel so angry, and it's kind of scary to go anywhere in public now, because you don't know what's gonna happen."
Merrily Cope, a social worker with Valley Mental Health says Nebraska's mall shooting will likely bring up a host of emotions for people close to Utah's Trolley Square tragedy. "Some of the loss that they felt at that time, the trauma, maybe some of the anger, the sadness, the grief."
Some could feel like they are reliving the event, though most will just revisit those traumatic feelings. Others who weren't as close to the tragedy may feel more vulnerable in public places.
"I think what's important when that happens is that people have somebody they can talk to about their feelings," Cope said.
Cope said one thing that impressed her after the Trolley Square shootings was Utahns' determination not to allow one random act to affect how they live. Shoppers today expressed that same resolve heading into the mall.
Galbraith said, "You can't change your life, or it affects everybody that way, and they win."
Sok said, "You can't live your life in fear; because if not, you're not gonna go anywhere."
Merrily Cope also told us children who were at Trolley Square the night of the shooting may have new fears hearing about another mall shooting. She said it's very important to reassure these kids that the adults around them will do everything they can to keep them safe.
×
Related links
Most recent Utah stories