Estimated read time: Less than a minute
This archived news story is available only for your personal, non-commercial use. Information in the story may be outdated or superseded by additional information. Reading or replaying the story in its archived form does not constitute a republication of the story.
RICHFIELD — A racist newsletter posted on the doors of some Richfield homes has residents in an uproar.
The letter, which was taped to residents' doors claims to be from the city's neighborhood watch, but investigators say that's not true at all.
The note says a family of African Americans will be moving into the neighborhood, warning about the impending "intrusion," as the letter writer says. "We realize this causes alarm for a few citizens."
The letter then instructs anyone with concerns about "this families intrusion" to sign a petition at the city courthouse.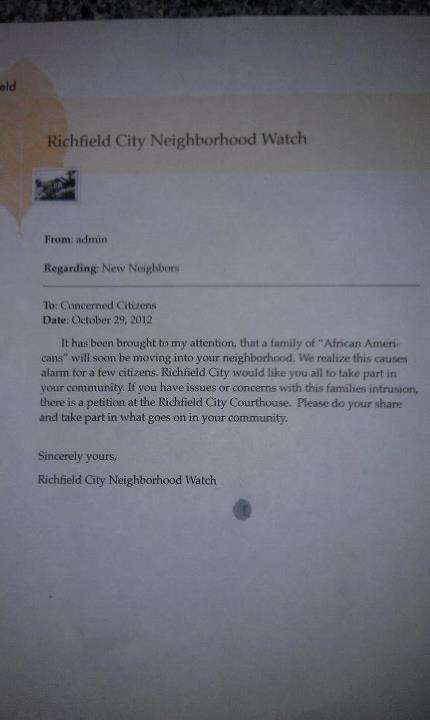 "It's blatantly false and it wasn't us that did it," said Richfield City Police Sgt. Trent Lloyd.
Sgt. Lloyd said the fake newsletter is upsetting to the police department, and was not sanctioned by anyone in the city or the neighborhood watch. They are looking for help in finding who taped the letter to neighborhood homes.
"We've already got surveillance video from one house it occurred at," Sgt. Lloyd said. "It only occurred at nine homes."
The letter is also not sitting well with the residents of Richfield. One person who emailed KSL said they were "disgusted." Another called it "a hate crime."
×
Related links
Most recent Utah stories