Estimated read time: 3-4 minutes
This archived news story is available only for your personal, non-commercial use. Information in the story may be outdated or superseded by additional information. Reading or replaying the story in its archived form does not constitute a republication of the story.
PROVO — There are few things as annoying as a leaky faucet keeping you up at night. Drip, drip, pat, pat, drip, drip. The noise can be infuriating. But the same thing that annoys you could also help keep you and millions of others safe while driving.
BYU professors Brian Mazzeo and Spencer Guthrie have found that they can use nothing more than water drops and a microphone to test the integrity of a material, including the integrity of the nation's 600,000 bridges.
It's called impact-echo testing. The idea is that when you strike something, like an anvil with a hammer, the resulting sound is an echo of the object you hit, Mazzeo said. The way it sounds can tell you a lot about the object and what kind of shape it's in. Is it hollow? Is it made of a lot of layers? Is it solid? Is it weak or strong?
You can even do this on yourself in a simple test. Gently thumping your chest sounds totally different than thumping your belly, and it's because there are very different things underneath.
Impact-echo testing has been around for decades and is often used to test bridges. Crews will drag chains across a bridge and listen for areas that sound hollow. That's where problems may be occurring. But the process is long, laborious and forces you to shut lanes down.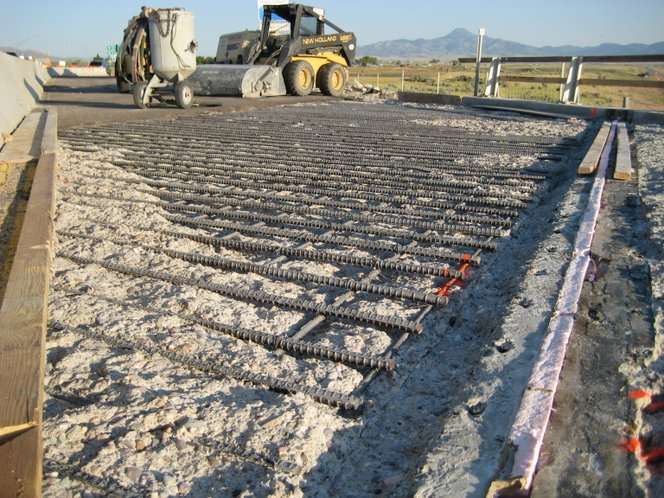 Fortunately, late one night, Mazzeo had a great idea: What if they used water? He and colleagues had been studying impact testing and had some equipment set up in the lab. Mazzeo said he poured water over some concrete and lo and behold, it worked. Strong and flawed areas were distinguishable.
Mazzeo and Guthrie imagine a day when workers can drive across a bridge, spray it with water, record it and have a fast and extremely accurate read on the condition that it's in and where the road has begun to delaminate — where the layers are beginning to come apart.
Maintaining bridges is a huge and expensive endeavor, according to Guthrie. They get built quickly but "but there's not a lot of glory in maintaining a bridge over its service life."
"The infrastructure in the U.S. is aging, and there's a lot of work that needs to be done," Guthrie said. "We need to be able to rapidly assess bridge decks so we can understand the extent of deterioration and apply the right treatment at the right time."
While the underlying principle is simple, using water to inspect roads is exponentially more complex than pounding your chest. Understanding the way that the drops and the surface interact is part of what the team is trying to do, with all of the seemingly infinite factors that can affect the response. The more they know, the more accurate a reading will be.
Water impact echo testing could be used on all kinds of things that need inspection, not only roads. Imagine a plane being bombarded with water and almost instantly knowing what parts of the plane's skin needs repair and which are still service worthy.
Their study was recently published in the journal Non-Destructive Testing and Evaluation International.
×
Photos
Related stories