Estimated read time: 4-5 minutes
This archived news story is available only for your personal, non-commercial use. Information in the story may be outdated or superseded by additional information. Reading or replaying the story in its archived form does not constitute a republication of the story.
SALT LAKE CITY — In March of 2012, Taco Bell announced the Dorito Loco Taco, a basic taco in a Dorito shell. Within six months this snack reached its 200 million sales mark, making the Dorito Loco Taco the most successful product since the Taco Bell chain began 50 years ago.
Now that's a powerful pairing.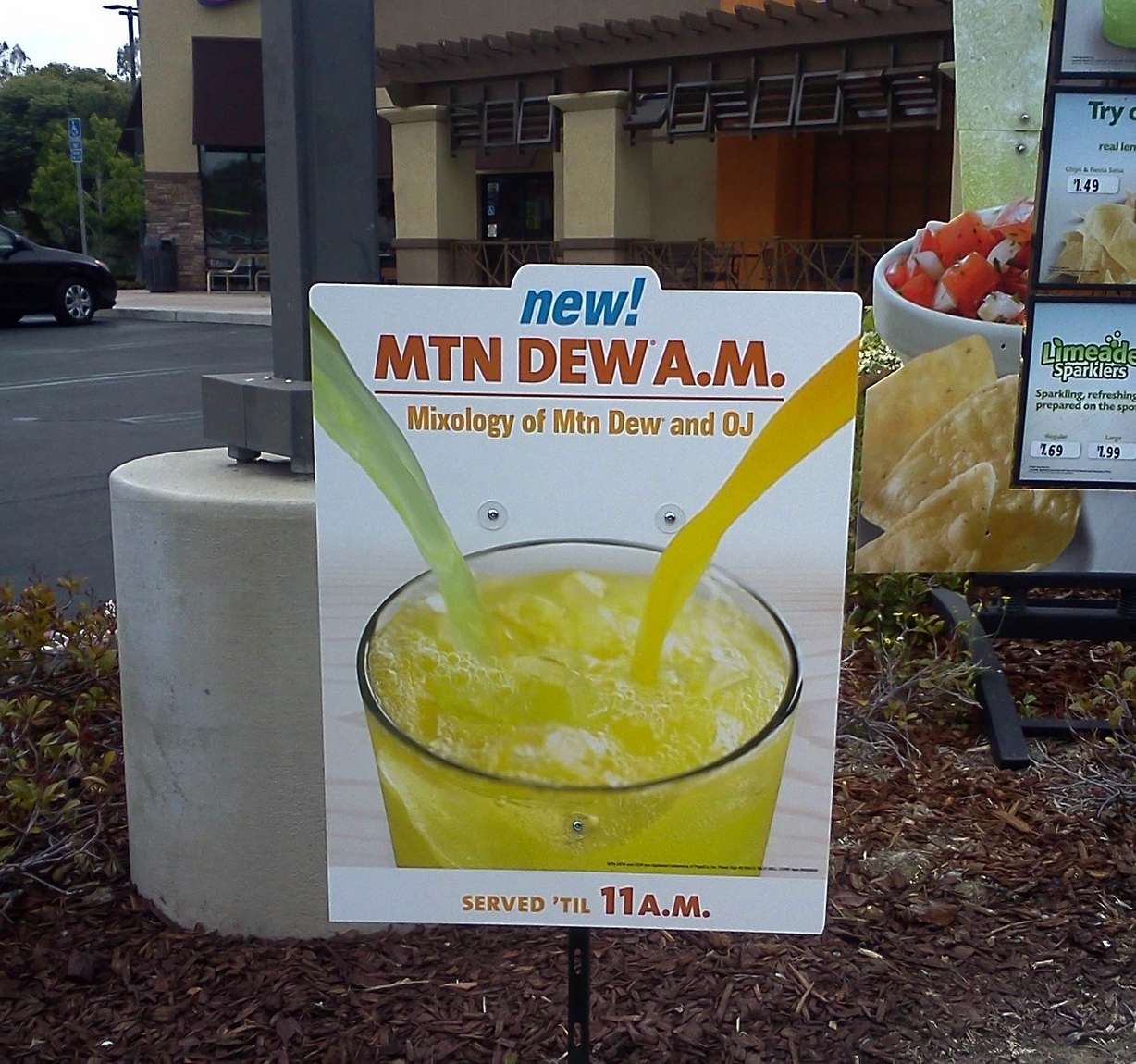 Taco Bell executives, thrilled with the success, are now jumping on the opportunity to combine more products to hopefully generate a similar uptick in sales numbers. This time it's all about breakfast.
In a recent press release, Taco Bell, owned by Yum! Brands, boldly predicted "breakfast will never be the same" as they introduced yet another product, a blend of Mountain Dew soda and Tropicana Orange Juice, dubbed Mtn Dew A.M.
The new drink concoction will be added to Taco Bell's new FirstMeal menu. FirstMeal menu items currently offered in 10 test markets feature new food partnerships with Seattle's Best (Premium Vanilla or Mocha Iced Coffee), Cinnabon (Cinnabon Delights), and Johnsonville (sausage and egg wrap).
As a consistent customer of Taco Bell, I'm thrilled about the new products, and looking forward to trying the new Mttn Dew A.M. and Cinnabon Delights. I did a trial run at home, mixing Mountain Dew and Tropicana, and I've decided I prefer a ratio of 60% Mountain Dew, to 40% Tropicana. I'm intrigued to see how the actual Mttn Dew A.M. will taste.
If there's one thing to learn from Taco Bell, it's that all businesses might benefit from exploring beneficial partnerships and pairings.
But that's only if the shoe fits. If not, the results can be disastrous. The recent situation of famed shoe designers Kari Sigerson and Miranda Morrison—as reported by Jessica Lustig in the August 1 New York Times— illustrates this painful truth.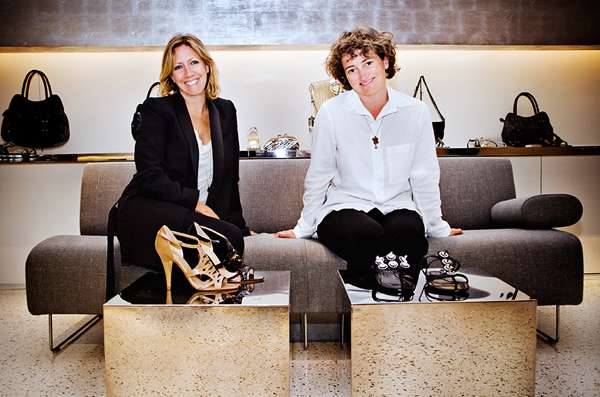 Both Sigerson and Morrison graduated from design school in 1991 and paired together to create the high-end shoe line Sigerson Morrison. Their shoes quickly became must-haves for supermodels and movie stars. By 2005 the designers had opened shops in Los Angeles and Tokyo, with a company reportedly worth $30 million.
The design duo decided to find an additional partner to take their brand to the next level. They were introduced to Marc Fisher of the 9 West discount-shoe fortune, and a $2.6 million agreement was made to acquire their company and the intellectual-property rights to its name. Both Sigerson and Morrison retained a 10% stake in the company and were hired as co-heads of design for seven years at $350,000 a year.
But things began to sour. Quickly. Within a short time, the designer pair noticed that Fisher was knocking off their designs for his discount line. He also refused to listen to their repeated requests to keep production in Italy, and manufacturing was moved to China to cut costs. The final blow hit in March of 2011 when Sigerson and Morrison attended what they thought was a routine meeting at the Marc Fisher Footwear showroom. Instead they were given letters of termination, lost access to their e-mail accounts, and had their company BlackBerrys wiped clean. Three weeks later Fisher sued both for $1.95 million in damages for late delivery of their shoe collection. The design duo then countersued the same day for $6 million in damages, stating the delay was not their fault but a problem with the factory and that Fisher had approved the late delivery. They also accused Fisher of sexual harassment.
To date, there is no sign of a settlement, and both designers are unable to design under their own names. Fisher has put anonymous designers in charge of the line and the cost of Sigerson Morrison shoes are a third lower than before. It's a sad story even if you aren't in the market for $450 gladiator sandals.
So what's the difference between the wildly successful Taco bell pairings and the ill-fated alliance of Sigerson Morrison and 9 West? An editor from Harvard Law School's negotiation program may have said it best in reference to the disappointing Sigerson Morrison collaboration:
---
"Take big dollar signs and even bigger promises with a grain of salt."
---
"Regardless of how the lawsuit plays out and who emerges victorious, the story serves as a cautionary tale for any business negotiator who is considering a new partnership with someone unfamiliar. Take big dollar signs and even bigger promises with a grain of salt. Spend time getting to know potential partners, talking in depth about your dreams and what each side brings to the table. Research their reputations thoroughly. If you do get to the contract-drafting stage, have a good lawyer vet it carefully. Above all, if the shoe doesn't seem quite the right fit, don't wear it."
×