Estimated read time: Less than a minute
This archived news story is available only for your personal, non-commercial use. Information in the story may be outdated or superseded by additional information. Reading or replaying the story in its archived form does not constitute a republication of the story.
SALT LAKE CITY — A new poll shows that for the first time, a majority of Americans say the government should not promote traditional values in society.
A Gallup poll conducted last month found that 52 percent of people feel the government should not favor any set of values in society; 44 percent believe it should promote traditional values.
Gallup has asked about the government's role in morality since 1993. For 11 years the majority of Americans consistently favored the government's promoting of traditional values, with the number as high as 59 percent in early 1996 and in 2001, after the Sept. 11 terror attacks.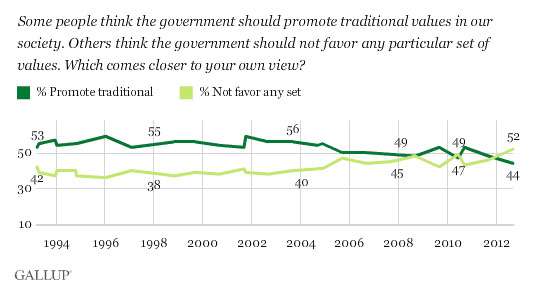 Since then, views have been more mixed.
Not surprisingly, Republicans widely favor active promotion of traditional values by the government (65% to 32%), while Democrats say government should take a more neutral stance (67% to 29%).
Gallup says the poll numbers are consistent with the public's more permissive views on gay rights, marijuana use, and gun ownership.
×
Related links