Estimated read time: 2-3 minutes
This archived news story is available only for your personal, non-commercial use. Information in the story may be outdated or superseded by additional information. Reading or replaying the story in its archived form does not constitute a republication of the story.
Tonya Papanikolas reportingA girl from Clinton, Utah, could soon be on her way to Music City as she continues to beat out other musicians in a contest for country singers and songwriters.
The aspiring musician, Katelyn Jolley, is only 13 years old! For her, nothing could be better in the world than writing and singing her own songs.
"I want to go into music for sure, be a singer-songwriter," she says. "I just love it because it's the way I express my feelings, honestly."
So when the 13-year-old saw an ad for a country music contest, she jumped on the chance to enter.
"I was happy I made it this far. So we'll see what happens," she said.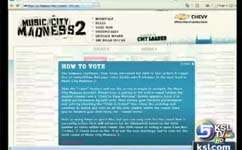 The Music City Madness contest is sponsored by Country Music Television. To enter, Katelyn submitted a video of herself singing.
Out of more than 700 submissions, Katelyn was chosen one of 64 finalists. After that, the public narrowed down the brackets week by week until Katelyn, the youngest contestant, was voted into the final four.
Her mother, Jennifer Jolley, was very proud. "She's amazing," she said of her daughter.
And her father, David Jolley, said, "We're just lucky that so many people saw the true talent in Katelyn."
Amazingly enough, that talent was just recently developed. Though Katelyn has been singing a long time, she only learned to play guitar in the last year.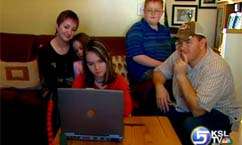 Her dad said, "One day she picked it up and found a chord and hasn't put it down."
Katelyn said, "I took eight or nine guitar lessons back in January. I just started teaching myself after that."
Now her notebooks are filled with lyrics that eventually turn into songs.
If Katelyn is lucky enough to win the contest, she'll travel to Nashville and record her songs in a half-hour show and then audition for Nashville execs.
"It would be awesome," she said.
But no matter what happens, the Jolley family is extremely proud of their daughter's talent and drive.
The winner of the contest will be announced on Dec. 30. We have a link to the contest Web site on this page, where you can watch Katelyn's video submission and vote for her.
×
Related links
Most recent Utah stories