Estimated read time: 4-5 minutes
This archived news story is available only for your personal, non-commercial use. Information in the story may be outdated or superseded by additional information. Reading or replaying the story in its archived form does not constitute a republication of the story.
DENVER — Monday night's presidential debate is being cast as a possible turning point, or at least a key part of the race. KSL's Richard Piatt and John Daley are in Denver, covering every aspect of the anticipated event.
6PM: The swing state
To get the flavor of a swing state, stop by Katherine's French Bakery and Café. In recent days the pastries have gone political, as customers vote with their wallet for red, blue and uncommitted white.
"Sometimes they come in and say, 'Give me one of each: one Republican, one undecided, one Democrat,'" said co-owner Mario Arrau.
The breakdown of the cookies, so far: Arrau said the tallies are very close, but more customers have purchased Republican cookies than Democratic.
Former Colorado Gov. Dick Lamm, once a presidential candidate himself, said Colorado is now up for grabs — a reality residents here can't escape.
---
It's obviously interesting, and probably even an honor being a swing state. But it's also a real pain ... you can't get way from the ads — they're ubiquitous.
–Dick Lamm, former Colo. governor
---
"It's obviously interesting, and probably even an honor being a swing state," Lamm said. "But it's also a real pain. Your phone rings all the time at dinner time, you can't get way from the ads — they're ubiquitous."
Campaigns and super PACs have spent more than $20 million on TV ads in Denver alone, making it the No. 3 media market in the presidential race.
Each candidate has visited Colorado eight times since June, and every adult we spoke with the popular Bonnie Brae Ice Cream shop said they'll be watching the debate — even though they've made up their minds.
"(I'm) going Democratic," said Kevin Dickson, a Denver resident. "I registered Republican, but after the Bush years I just kind of drifted over to the Democratic side."
"Put it this way," Denver resident Kaye Hammond said, "I know who I'm not going to vote for … President Obama."
"It's going to be an event here in town," Bonnie Brae co-owner Ken Simon said. "It's going to be one of those things where the nation will be watching — maybe the world."
5PM: Preparations for the first 2012 presidential debate
President Barack Obama and GOP challenger Mitt Romney are set to square off at a specially designed debate hall at the University of Denver in Colorado. Prior to the debate, KSL News got a behind-the-scenes look at the university's preparations.
Related:
Over the past few days, those preparations have literally taken over the university campus. Thousands of people, from all political persuasions, have gathered there with really intense interest in what's going on.
Outside the Ritchie Center, it's like a media beehive. Familiar faces and technicians crisscross in every direction, always in a hurry. But inside is where the focus really is, and the debate hall is being scrupulously manicured for this high profile event.
The Commission on Presidential Debates has gone through a lot of work to convert the hockey rink into a set that's going to carry one of the most-watched events of this month. Not only that, everything within the set has triple redundancy, especially anything to do with light and sound.
Before the debate, there are sound checks, stand-ins to check lighting and microphone placement, and the moderator's chair is placed so it can't go out of frame. Audience seats are counted and counted again.
---
The rules are that everyone comes in and holds their breath for 90 minutes — no noise, no applause, no intervention of any kind. This is time to focus on the candidates and their views.
–Janet Brown, Commission on Presidential Debates
---
Up to 1,000 people will get to see the debate in person. The hottest ticket in town will be split up among the candidates families and campaigns, the university and donors to the Commission on Presidential Debates.
"The rules are that everyone comes in and holds their breath for 90 minutes — no noise, no applause, no intervention of any kind," said Janet Brown, the commission's executive director. "This is time to focus on the candidates and their views; any … intervention from the audience takes time away from the candidates."
Media crews from all over the country have set up work stations on the school's basketball court, and there's an area set aside for the "spin zone," where the campaigns will send people after the debate to give their take on what's happened on stage.
5PM: History of the presidential debate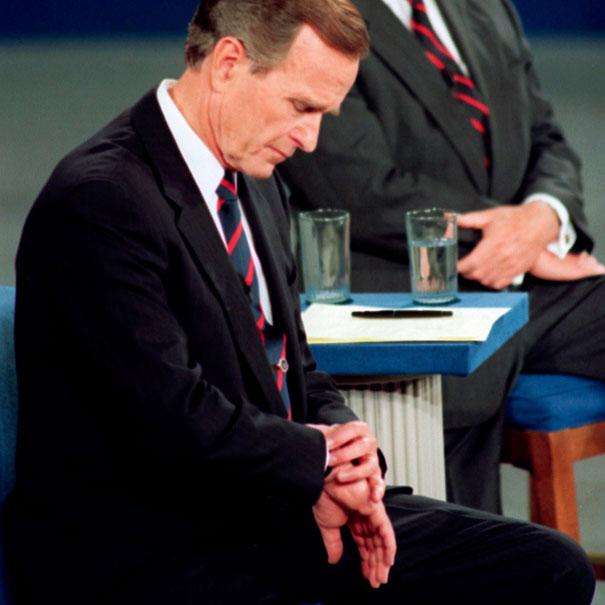 Continuing a decades-old American tradition, upwards of 50 million people are expected to tune into watch the first Obama-Romney debate in Denver will be upwards of 50 million people, continuing a long American tradition.
Memorable debate moments can help or hurt — often greatly.
In 1960, the first TV debates propelled the youthful, confident John F. Kennedy to victory.
Voters also remember a statement made by President Ronald Reagan in a 1984 debate with Democratic challenger Walter Mondale as a standout moment.
"I will not make age an issue of this campaign," Reagan said. "I am not going to exploit for political purposes my opponent's youth and inexperience."
In 1992, Americans remember watching President George H.W. Bush look at his watch as an audience member questioned, "How has the national debt affected each of your lives?"
Related:
"In my state, when people lose their jobs there's a good chance I'll know them by their names," Democratic challenger Bill Clinton said. "When a factory closes, I'll know the people who ran it."
The first debate always gets the biggest TV audience, makes the biggest impact and is "make or break" for the challenger.
Surprisingly, history shows debates often don't move the polls much. But they provide the one opportunity for voters to see both candidates side by side and hear what they have to say unfiltered.
×
Related stories
Most recent Utah stories