Estimated read time: 3-4 minutes
This archived news story is available only for your personal, non-commercial use. Information in the story may be outdated or superseded by additional information. Reading or replaying the story in its archived form does not constitute a republication of the story.
Lori Prichard and Courtney Orton reportingThick snowflakes fell throughout parts of the Wasatch front, but not a lot stuck, at least not in the valley.
Three-year-old Heather Weber was having a blast catching snowflakes on her tongue, even though Mother Nature didn't blast us with too much snow.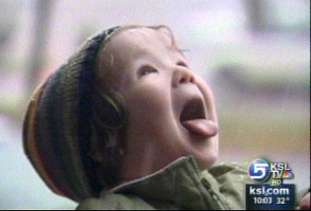 As the snowflakes came down, people in downtown Salt Lake had their umbrellas up as many strolled through the afternoon snow, but some we saw were just plain soaked. Carolin Crosby said, "It's not real snow yet, it's too wet."
Jeremy Weber agrees it's wet but still welcome. "It's the first of the season actually. It's good to see it for the first time, especially here in Salt Lake."
In Salt Lake, crews are out salting, making sure whatever's wet doesn't turn to ice overnight.
Nikki Bown, with the Department of Public Services, says, "Currently we have 12 plows out, and they're salting to make sure it's not sticking and getting iced over."
In the meantime, UHP reports a spike in minor accidents across the area, accidents blamed on the snow.
David Pierce, who drove all the way from West Valley City to downtown this afternoon to say good-bye to Dick Nourse, said, "It's good for Christmas but bad for driving."
The Salt Lake County Sheriff's Office needs some help from residents to make clearing roads easier.
If there was snow on the ground and you lived in the unincorporated areas of Salt Lake County, cars parked along the street could be cited, even towed.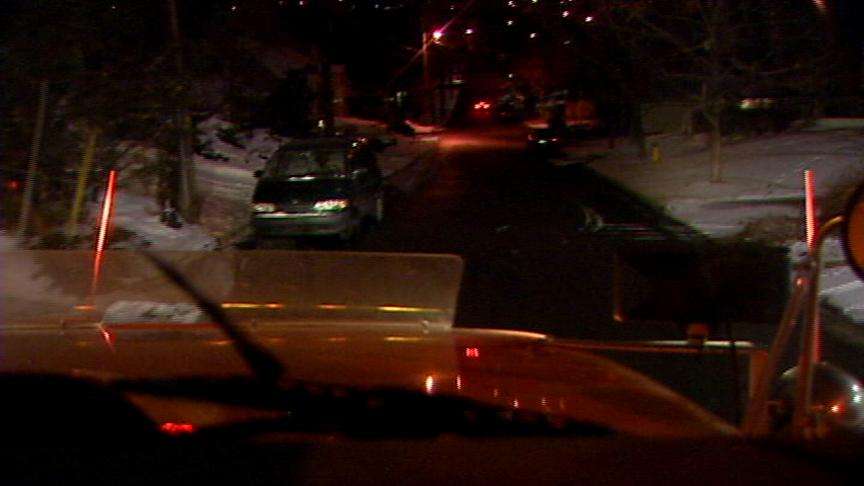 But, if you live in Salt Lake City, say in the Avenues, you wouldn't. Parking enforcement officers only encourage residents to move their cars off the street if there's snow. "The way the ordinance reads, anytime there is an accumulation of snow on the road, you cannot park on the road," says Kevyn Smeltzer, operations director for Salt Lake County Public Works Department.
In many areas of Salt Lake County, including most cities, it's actually illegal to leave a car parked on the street from November through April if snow is on the street.
In years past, sheriff's deputies have left warning notices on cars, but they say it doesn't seem to be doing any good.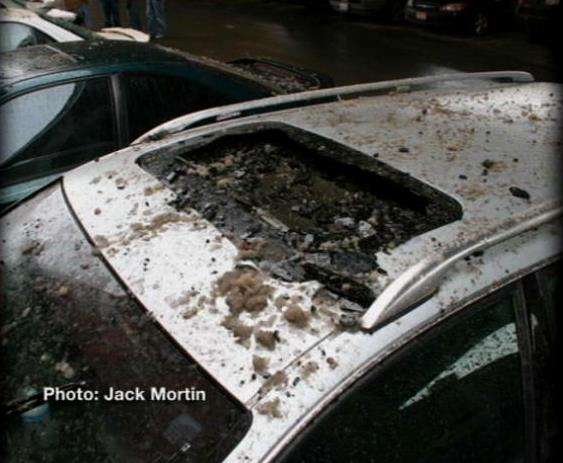 Every year, people continue to park on snow-filled streets, and every year some of them get damaged. Last March, several cars were damaged by snowplows.
Smeltzer says, "A snowplow truck does not drive like a car; it's harder to stop. If the plow hits a patch of ice on the road, it can pull the truck into a car parked on the side of the road. If there's cars parked on both sides of the road, then the plow has to try to squeeze between them, and a lot of times, there's just not enough room for that to happen."
Salt Lake County pays thousands of dollars in damages each year because snow clearing trucks hit cars parked illegally along the street.
But damage isn't the only result. Snowplow driver Larry Helquist says, "It decreases our efficiency tremendously. Every route probably loses 30 minutes to an hour per shift with the parked cars."
Smeltzer says, "What we're asking the residents for is voluntary compliance in moving those cars from the street and parking them in the driveway, getting them off the street so we can do our job."
Sheriff James Winder, with the Salt Lake County Sheriff's Office says, "We don't want to issue citations, but we want people to understand that when they receive a citation warning notice from the sheriff's office, they should take it very seriously."
It's a good idea to contact your local authorities for more specifics on the laws and ordinances in your area.
Road crews are ready for whatever may fall. Here are a few facts to give you some perspective of what it takes to keep Utah moving in the winter.
**UDOT Snow Facts:**- 487 Snowplows, 2 of them already equipped in St. George - 5,880 Miles of road are plowed every year - 65,000,000 tons of snow are moved in a typical year - 210,000 Tons of Salt used on the roads
×
Photos
Related links
Most recent Utah stories