Estimated read time: 2-3 minutes
This archived news story is available only for your personal, non-commercial use. Information in the story may be outdated or superseded by additional information. Reading or replaying the story in its archived form does not constitute a republication of the story.
Sandra Yi and Nicole Gonzales reportingA man is dead after what appears to be a drive-by shooting. It happened around 4:15 this morning in the Glendale area of Salt Lake.
Police are still looking for the shooter. The victim was shot in the driveway of the house at 1259 S. Glendale Dr. Police still don't know why he was shot.
There's a sign on the door and flowers in memory of 35-year-old Vincent Samora. He was shot and killed in a car parked in his mother's driveway. "Shortly after they pulled up to the victim's residence, while they were sitting in the car, suspects from an unknown vehicle fired several shots from a firearm," explained Salt Lake City Detective Jared Wihongi.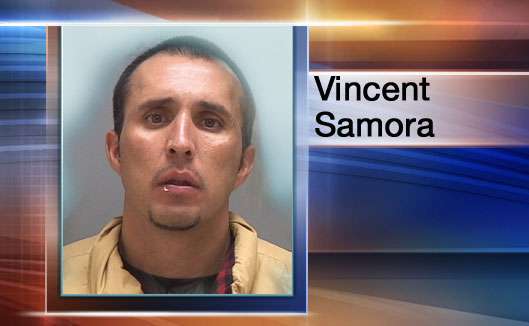 Samora was in the passenger seat. He and the female driver had just returned from a convenience store. Moments after the shooting, police searched for evidence. "We don't know definitely what the motive is," said Wihongi.
With her daughter translating, neighbor Estela Castonon told Eyewitness News that she heard six gunshots around 4 a.m. She said, "She was awake, and she stood up to close the window."
Police say Samora has a history of gang involvement, but the shooting may not be gang related. Police interviewed the woman in the car. Investigators have some leads, but they're keeping them under wraps. "We don't want to tip the suspect off right now with the information we have. We're just trying to keep, while we're working on those leads, keep them under wraps," explained Wihongi.
The victim's cousin spoke to Eyewitness News by phone. She didn't want to go on camera, but she said Samora was loved by a lot of people.
Police say there could be two or more suspects. They're looking for a newer model, silver Jeep Cherokee with tinted windows and what's described as nice chrome wheels.
The vehicle was seen driving around the Glendale area from 10 p.m. last night until the time of the shooting around 4:15 a.m. this morning.
If you have any information, call Salt Lake City Police Department's 'Tips For Cash" hotline at (801-799-INFO.)
A cash reward is being offered for information leading to the arrest and conviction of the suspect or suspects in this incident.
×
Most recent Utah stories