Estimated read time: 3-4 minutes
This archived news story is available only for your personal, non-commercial use. Information in the story may be outdated or superseded by additional information. Reading or replaying the story in its archived form does not constitute a republication of the story.
VERNAL — A Vernal man learned Thursday that while it may be legal to pay a bill with pennies, the way you do it can get you in trouble with the law.
Jason Robert West, 40, was found guilty of disorderly conduct, an infraction, following a nearly four-hour bench trial in Vernal City Justice Court.
The charge stemmed from a bizarre incident in May 2011 where West decided to protest a disputed $25 medical bill by unloading 2,500 pennies on a receptionist's desk at Basin Clinic in Vernal.
Before pouring out his payment, however, West yelled at the clinic staff and used abusive language, according to testimony Thursday from a patient who had been sitting in the waiting room when the incident occurred.
"He was lambasting the receptionist over a bill," said Linda Olsen, who described West as "loud" and "indignant."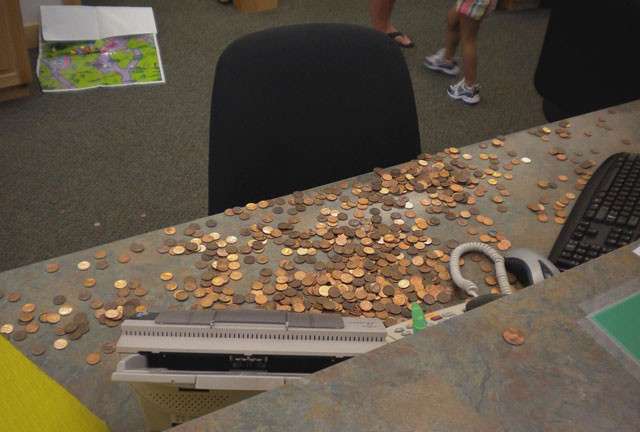 Clinic receptionist Kory McCurdy also testified that West's conduct made her nervous. That nervousness intensified, she said, when West told her, "I want to apologize for what I'm about to do. It's not your fault," before he reached into a bag he was carrying.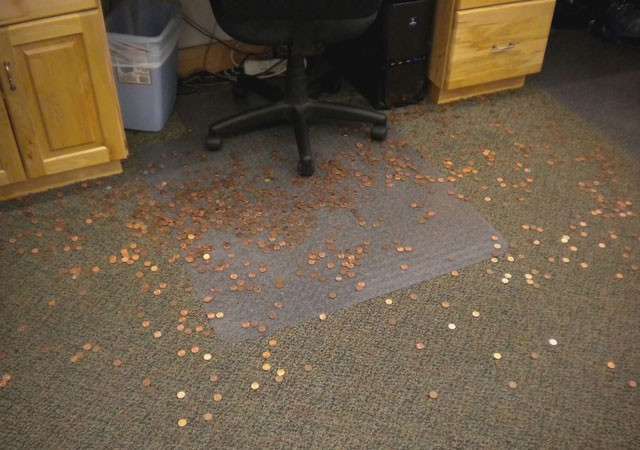 "When someone says that to you, a few things go through your mind," McCurdy said. "You don't know what's about to happen."
What West withdrew from the bag wasn't a weapon. Instead, it was the bowl full of pennies, which witnesses said he unloaded with enough force that it sounded like a gun had been fired.
"In my mind all I could think of was a gunshot or something scary," clinic receptionist Angie Hackford testified.
"Did you laugh about this afterward?" asked defense attorney Greg Stewart.
"To tell you the truth, I was worried about laughing today," Hackford said, noting that she often laughs as a defense mechanism when she's nervous or scared.
Stewart pointed out that none of the clinic staff felt the incident was threatening enough to warrant a call to police. Then one of the doctors learned about it and told them to report it.
When West's behavior was reported to police dispatchers, both the person reporting it and the dispatcher could be heard laughing in a recording of the call that was played in court.
West has denied acting aggressively toward any clinic staffer. In a 2011 interview with the Deseret News, he said he calmly asked the office manager, "Do you take cash?" He was prepared to pay with his debit card, he said, but found out that wasn't necessary.
"She very haughtily said, 'Well, yes we do,'" West said. "So I said, 'Lucky for me, I happen to have it on me.'"
---
I can't understand why a reasonable person would do that.
–Judge Ray Richards
---
West, however, did not take the stand during Thursday's trial on the advice of his attorney. That decision was made, Stewart said, because he didn't believe the city prosecutor had made his case.
Vernal Justice Court Judge Ray Richards felt otherwise, finding West guilty and scolding him for his actions.
"I can't understand why a reasonable person would do that," the judge said, noting the conviction was not based on West's decision to pay in pennies, but the manner in which he did it.
"Reaching into a bag like that would cause me alarm, too," Richards said.
He ordered West to pay a $140 fine.
Stewart said his client has 30 days to decide whether he'll ask for a new trial in district court.
As for how he might pay his fine?
"It sounds like the judge was willing to accept payment in pennies, so that's definitely an option," Stewart said.
×
Photos
Related stories
Most recent Utah stories