Estimated read time: 3-4 minutes
This archived news story is available only for your personal, non-commercial use. Information in the story may be outdated or superseded by additional information. Reading or replaying the story in its archived form does not constitute a republication of the story.
SALT LAKE CITY — Mitt Romney raised big cash on a quick visit to Salt Lake City Tuesday — somewhere in the neighborhood of $2 million.
At the Grand America Hotel, Romney spoke at a a $1,000-a-head event that drew an overflow crowd, followed by a VIP reception priced at $25,000 a head.
'No Apology' fundraisers
During his speech, Romney focused on the vision he has for America's future. He was unapologetic about comments he made in another event, which were secretly recorded and released to the media.
Deseret News:
"(Obama's) approach is a government-centered America, where government takes more and more and then gives to those who believe they need that help," Romney said. "We all believe that when people are in distress, and when they need help, we give them temporary help and pull them back up. But we don't believe in redistribution."
Most everyone who attended was eager give their money, supporting a man they want to lead the nation.
"We believe in certain principals of government, and we feel like we need to do our part; and contributing money is something we can do," said Kent Murdock, a Romney-Ryan campaign donor.
Romney's arrival
Earlier in the day, Romney landed to a semi-private event at the airport.
The campaign allowed Romney's arrival to be covered by the media but he did not acknowledge reporters or make any public comment other than greeting members of a Boy Scout troop from Cottonwood Heights who met his plane.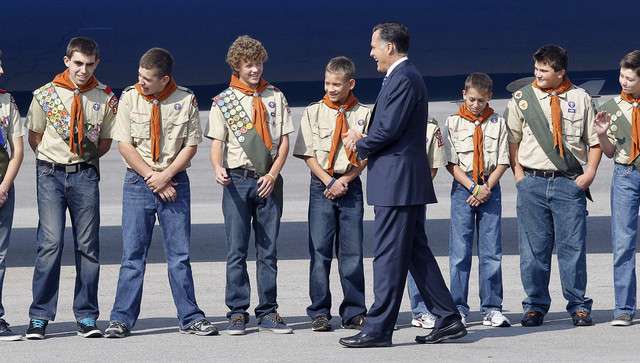 Matthew Spurrier, 16, said Romney asked the Scouts their names and had a few of them recite the Scout Oath. Spurrier said he was nervous, but managed to remember the words.
"It was an experience to remember," Spurrier said. "It was cool."
Romney's campaign plane landed at the Executive Terminal at the Salt Lake City International Airport before he headed via motorcade to the Grand America Hotel
While Romney's Utah supporters had been hoping the candidate would make a public appearance during his brief stop, the campaign decided there wasn't enough time.
Romney traveled from California to Utah, and then on to Dallas for yet another campaign event.
Protesting the GOP candidate
But not everyone was happy about the presidential candidate's visit to Utah. A group of undocumented immigrants rallied outside the Grand America Hotel while the fundraisers were taking place.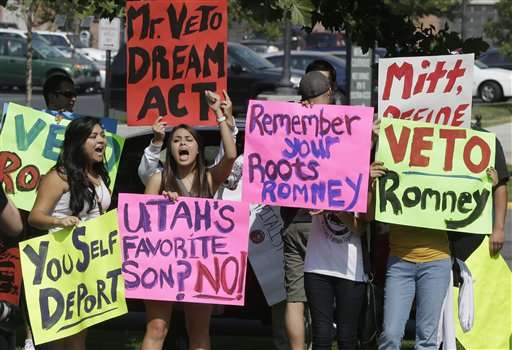 They were upset over Romney's immigration stance, especially his opposition to the deferred action program which lets young immigrants stay in the United States if they meet certain requirements.
"If they hear us, great. If they don't, don't," protestor Bryan Gutierrez said. "It's important that we're out here showing our opposition."
Speaking to the U.S. Hispanic Chamber of Commerce Monday, Romney said he would propose a Dream Act for those in the military, leaving out the component on those attending college.
Romney-Ryan bus tour
Also Tuesday, the campaign kicked off a three-day bus tour of the state, featuring Republican leaders including Sen. Orrin Hatch, 4th District congressional candidate Mia Love and Utah GOP Chairman Thomas Wright.
The bus was scheduled to make stops at two of Romney's four call centers in Utah, in Midvale and Logan, as well as at a Staples office supply store in Layton.
Utahns have given $4.8 million to Romney's campaign since he announced his second presidential bid last June, according to the Federal Elections Commission.
×
Photos
Related stories
Most recent Utah stories