Estimated read time: 5-6 minutes
This archived news story is available only for your personal, non-commercial use. Information in the story may be outdated or superseded by additional information. Reading or replaying the story in its archived form does not constitute a republication of the story.
SALT LAKE CITY — By now, unless you're some haggard-looking caveman pushing car insurance in a commercial, you've heard and read all about the bizarre ending to this year's BYU-Utah rivalry game, involving thousands of fans pouring out of the stands and onto the field.
You've also seen the video of the foolish Utah fan confronting BYU coach Bronco Mendenhall after the game, only to look even more stupid in losing a game of chicken as he melted away like the Wicked Witch of the West upon seeing Mendenhall walk toward him. Having been an eyewitness to the incident, it had the potential to be nasty, and it's embarrassing to even try to defend the fan's behavior. Any contempt of this argument only proves that hate overrules logic.
Related:
But more on that nonsense later.
The point here is to evaluate BYU's performance on the field. In a different realm, the Cougars need to be as embarrassed as any out-of-control fan.
For a program that preaches discipline — one of the Mendenhall's favorite words is trust — BYU deserves a heavy dose of criticism for looking out of sorts in such an important game. Even without the reminder of last season's 54-10 debacle in Provo, the Cougars should have had enough incentive to play well. And yet, their performance in many ways mirrored last year's turnover fest, with unpreparedness being the primary culprit.
Let's start with the penalties, particularly two personal fouls. Simply put, there's no excuse for them, especially for a team that takes its cue from a coach who doesn't prey or play on emotion.
Mendenhall's philosophy is substance over style, preferring to focus on execution rather than the fire-and-brimstone method. As such, the players are expected to be in control at all times.
Something is askew this season.
In three games, BYU already has been whistled for eight personal foul penalties. In all of last season, the team had 10 such infractions. (Credit BYU broadcaster Greg Wrubell for these numbers.)
While the penalties made no difference in easy wins over Washington State and Weber State, Mendenhall should have insisted upon personal accountability going into the Utah game. Mendenhall knew better, having openly admitted he underestimated the nature of emotions before going into the 2005 rivalry game for the first time as a head coach.
It stands to reason, given circumstances of the rivalry, that emotions could have been higher than usual in Saturday's game. And against a team that has dominated the series recently, BYU literally couldn't give away free yardage to an offense that lacked firepower.
Not that Mendenhall would agree.
"A lot of times, personal fouls are signs of aggressive, confident play," he said after Monday's practice.
Cougar Tracks:
And they can also be signs of undisciplined play.
Personal fouls aside, the amount of false starts by the offense projected an obvious lack of execution. Clearly, Utah's boisterous crowd rattled the Cougars, who gave up a touchdown to Utah's defense off a botched snap out of the shotgun formation.
"We were exposed that we can't handle noise," quarterback Riley Nelson bluntly said after the game. "Credit their crowd 100 percent."
If the personal fouls are somewhat acceptable, there can be no arguing about the false starts and atrocious snaps. In his typical style, Mendenhall was matter-of-fact on Monday in saying BYU could have prepared more for the Rice-Eccles Stadium atmosphere.
"I probably could have made a bigger deal of it in practice, in terms of just blaring music," he said.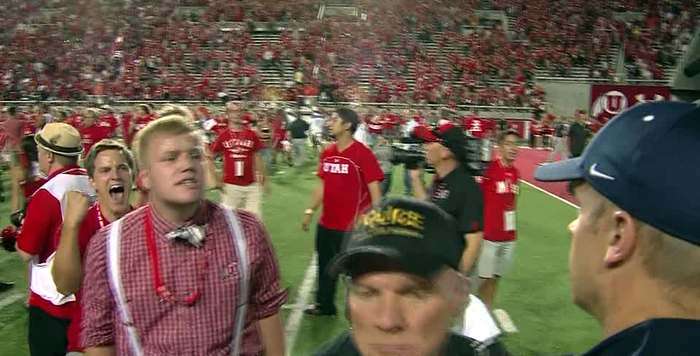 There you go. At least there's no excuse for the next return visit in 2016.
As far as the shenanigans at the end and after the game, the insanity has got to stop. And it must cease now before a serious injury results.
It's time for the NCAA or conference commissioners or Congress to get a handle on this. Having stood on the field and seen many potential problems, it's easy to forecast the future. Sooner or later, somebody will get hurt.
Asking a coach to ignore a lunatic shouting at him from close proximity is too much, especially after an emotional loss like BYU suffered to Utah. Security needs to be beefed up to the point of prevention.
It's not like it can't be done. Security at the Fiesta Bowl kept delirious Utah fans from reaching the turf at Sun Devil Stadium in the Utes' end-of-season game in 2004. Lo and behold, those fans didn't miss a thing not being able to smell the sweat of their heroes.
Related:
In retrospect, Utah officials and the game referees should not have continued play until every unauthorized person had left the field before the final wayward field goal attempt. Letting them stay on the field off to the sides was wrong.
And in the event that some 50-year-old can't live without breathlessly wading his way into a mosh pit with a crowd more than half his age, demand that all fans stay off the field until the visiting team has a few minutes to clear the sideline.
The solution is simple.
×
Related stories
Most recent Utah stories