Estimated read time: 6-7 minutes
This archived news story is available only for your personal, non-commercial use. Information in the story may be outdated or superseded by additional information. Reading or replaying the story in its archived form does not constitute a republication of the story.
PROVO — Here comes the early season game between rivals BYU and Utah. Those of us in the state of Utah are so lucky to have this opportunity to get excited about this game. Not every team has a rival to trash talk about all week before the game. San Diego State would be one of those teams and BYU and Utah will soon be similar to them as this rival game is going to be interrupted for a while.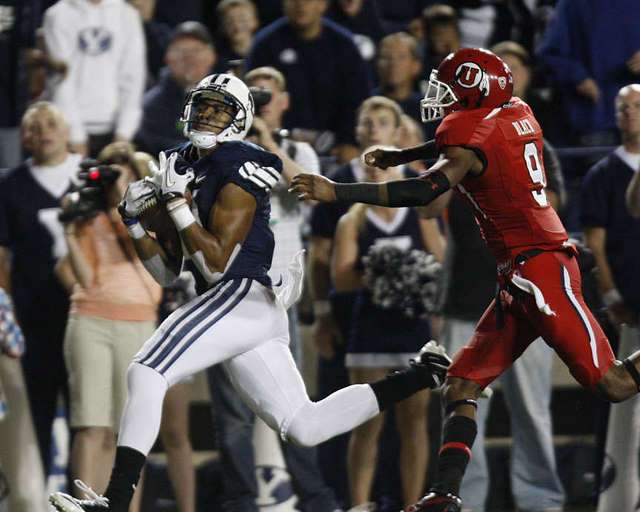 Utah wants to make Colorado their new rival but how do you just tell people, "Hey, you are now my new rival." But there is going to be a hotly contested game this week between the Cougars and the Utes and it should be a close one. People have expressed disappointment that this game is scheduled so early in the season that it prevents part of the build-up to the big finish game of the year, but I'm ready for it anytime.
It surprised me to see that the BYU-Utah game has only been scheduled as the last game of the year since 1996. To me, this is like starting dinner with dessert.
Here's my scoop on this year's matchup. Both teams have strong defenses and those teams will probably control the game. BYU only gives up 239 yards a game and is ranked 10th in the nation. Utah only gives up 247 and has a ranked 15th. BYU's and Utah's opponents have been similar, so I think both defenses are very good, as usual. I think BYU has a slight advantage offensively because they have a terrific leader in QB Riley Nelson.
By the numbers, BYU rushes for 30 yards more a game than Utah and throws for 80 yards more. Utah was a sad 2 for 17 in third down conversions against Utah State. However, I don't believe that either team is at its best offensively yet. There is better play to come from both teams. Will it be this week? We must wait and see. Here's what I think BYU needs to do to be victorious Saturday.
Nate's Notes:
#1 OBJECTIVE I expect this to be a field position game, so BYU has to be patient offensively and not be frustrated if every drive doesn't produce points. There are times when punting isn't always a bad thing. Play the game and wait for opportunities. When BYU does get a short field or good field position, then play with a more open offense. BYU is a good 53 percent in converting third downs, so they need to try to get in short yardage third down situations when in negative field position. Utah State only converted 2 of 13 third downs, but their patience finally led to improved field position to score points.
BYU needs to use the run game and the short underneath pass game to make first downs. Each first down they make helps to improve field position and eventually lead to scoring opportunities. Special teams can help set up BYU with short fields and force Utah into long drives. Cover teams have been good allowing only 20 yards on kickoff returns and only six yards a return on punts.
JD Falslev has been terrific on punt returns averaging 17.5 yards a return. Riley Stephenson is averaging 52 yards on every punt. Special teams have been good, but the quickest way to improve field position is by a takeaway by the defense which sets up the next goal.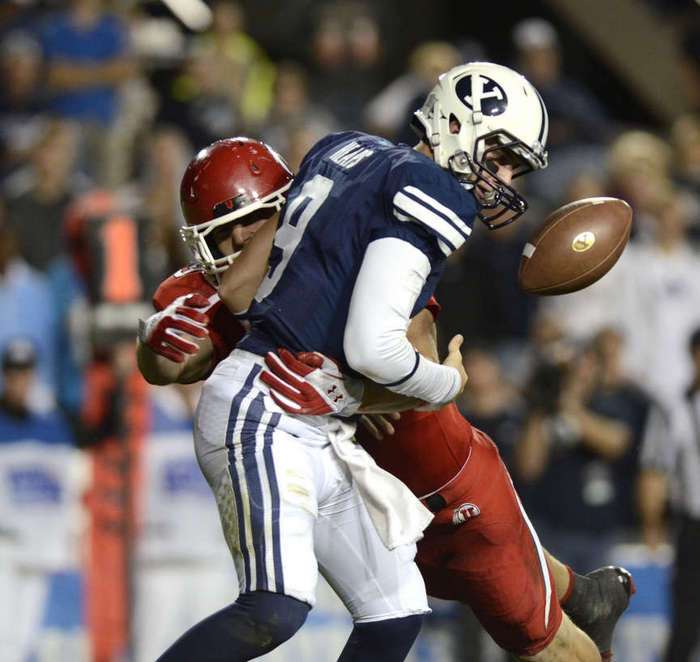 #2 OBJECTIVEWinning the turnover battle in a close game is critical. BYU turnovers in the last two wins for Utah led directly to those victories. A turnover either takes away your good field position or gives your opponent good field position. BYU just can't give up the ball, and can greatly improve their chances of winning with some takeaways. BYU was clean in the Washington State game but gave up an interception and a fumble against Weber State.
In this week's game, BYU just has to force Utah to earn all of their field position and hang onto the ball. If Utah must earn all of their points against the solid BYU defense, and get nothing from turnovers, I think BYU wins this game. BYU has forced two turnovers in each of their games this year; getting two more and some points off them would be a big plus this week. Utah's offensive line struggled to protect the QBs against USU giving up three sacks and forcing wild throws. Pressuring the QB might make him throw some passes that can be picked off. My guess is that is part of the defensive game plan.
#3 OBJECTIVE
The rivalry puts a lot of excitement into both teams prior to this game. The game will turn into a football game sometime in the first quarter, but emotions will be at the boiling point early. It is important to meet the energy early of Utah, but don't get caught up in the over-exuberance. The team that is pumped up but can still execute will get the early advantage. Utah creates a tough atmosphere for opponents at Rice-Eccles Stadium. The fans are rowdy and vocal. They get into the third down jump that gets loud and makes play calling difficult for the opponent.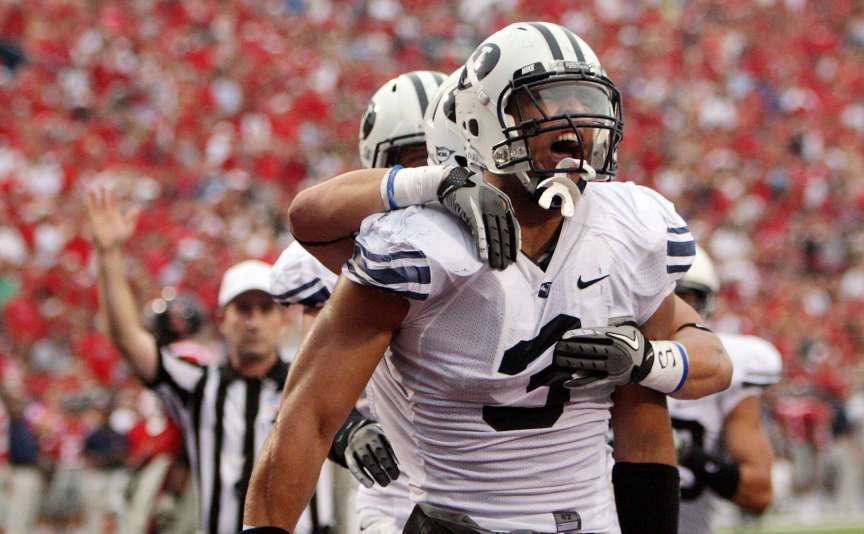 Many of BYU's players are familiar with playing at Utah and Brandon Ogletree even said he likes the crowd. It reminds him of games he played in high school in Texas. He likes the challenge of playing well enough to silence the crowd. He is a senior that will help those younger players adjust to play football and not get caught up in the other stuff going on. So, maintain your poise, play like you practice, don't let setbacks change your focus, and perform to the best of your abilities. Keeping your cool while others are losing their's gives you the advantage.
One More Thing to Watch
Utah leaves some openings in their zone pass defense. However, Utah doesn't play a lot of zone pass "D" against BYU. They like to play man to man with their cornerbacks and rush five or more guys to pressure BYU's QBs. The blitz also can be hard to run against. I'm watching early to see if Utah continues to use this defensive tactic again this year. BYU needs to stay out of long yardage situations and keep Utah off balance with Riley Nelson's skill of being mobile. That will be my first key to see what's up at the start of the game.
Quick Hits
This is Utah's homecoming. The last time BYU was Utah's homecoming was 1968.
Utah has the second youngest coaching staff in the FBS
Colorado and Utah were once in the Big Seven Conference. Colorado left in 1947. Interesting that Utah and Colorado are joined again now in the Pac-12.
×
Most recent Sports stories