Estimated read time: 2-3 minutes
This archived news story is available only for your personal, non-commercial use. Information in the story may be outdated or superseded by additional information. Reading or replaying the story in its archived form does not constitute a republication of the story.
COTTONWOOD HEIGHTS — There's no way to know for sure, but it's possible many lives might have been saved if victims of motorcycle crashes had been able to use a protective device that's now available. Motorcycle cops have just started using them in Cottonwood Heights.
It's just a few straps and pieces of fabric. But when a motorcycle officer has a sudden need for protection, it goes off with a bang. It may look like fun. But being a motorcycle cop can keep you on edge, every day.
"It's a frightening job. It's more dangerous than riding around in a patrol car," said Brian Eschtruth with the Cottonwood Heights Police Department.
He said it gives his family members and fiancée plenty to worry about. "Last year there (were) about five occasions where I had to take evasive maneuvers to avoid being hit by vehicles," he said.
That's why he's glad to be wearing what amounts to an air bag system for motorcycles. He has to hook up every time he gets on, and unhook every time he gets off. It's a ripcord system that triggers the device.
The theory is this: If you fly off the motorcycle in an accident, the ripcord pulls the trigger and saves your life. In this YouTube video, a car takes out a bike. But the biker reportedly got up and walked away thanks to the life-saving vest.
Officer Eschtruth still wears a helmet, but the vest protects most of the other vital parts.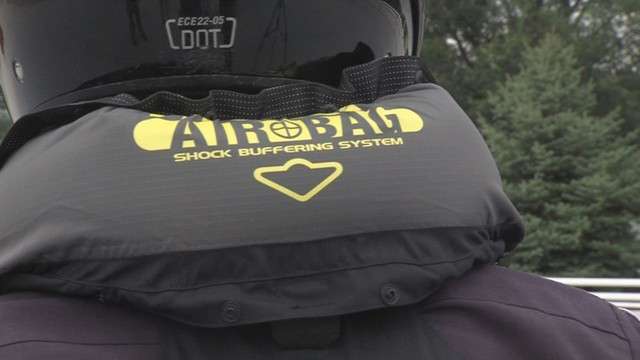 "It's covered my spine, my lower back, so my spine's protected," he said. "My neck's in a c-collar position, so I can't move that."
A similar concept inspired Swedish inventors to help bicycle riders who just don't like wearing helmets. The Invisible Bike Helmet is a thick collar around your neck. When this Swedish crash dummy goes flying, an inflatable helmet deploys around his head.
Jeff Goddard says he's not ready to recommend it yet to his customers at Guthrie Bicycles .
"No, not until I think it's proved itself more," Goddard said. "Helmets have been around a long time and have a lot of tests and experience to show they actually work."
But the motorcycle safety vest has been in use for years by racers. Eschtruth say its safety record has been proven.
"I believe in it 100 percent," he said. "I think it's one of the best safety things the chief and the city have bought for us.
The motorcycle safety vets costs over 400 dollars. But the police chief here obviously thinks that's a bargain compared to the costs and consequences of an officer being injured.
×
Photos
Most recent Utah stories