This archived news story is available only for your personal, non-commercial use. Information in the story may be outdated or superseded by additional information. Reading or replaying the story in its archived form does not constitute a republication of the story.
SANDY — It was obvious after his first varsity start as a 15-year old freshman that Austin Kafentzis was special.
Jordan was trailing Fremont 12-0 at halftime. He heard the chants of those that wanted him replaced. He used that as motivation in the 2nd half.
He led an impressive comeback victory capped off by a 25-yard touchdown pass with 5 seconds left in the game.
2012 passing totals (2 games)
Comp.-Att
Pct.
Yards
TD
Int.
33-50
0.660
477
238.5
4
1
It was just the beginning of a remarkable season by such a young player. He passed for 3188 yards and rushed for 1377 yards. He found the end zone 44 times on the ground or through the air, leading Jordan to the 5A semifinals.
His performance earned him national freshman of the year honors and in the process, the respect of his teammates.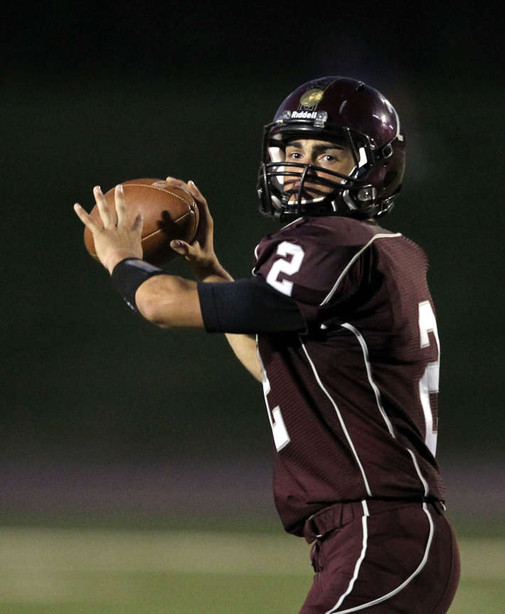 "They like the qualities he has," says Jordan head coach Eric Kjar. "He's not selfish at all. He's not worried about himself first. He's not worried about stats or anything like that. He just cares about winning and I think that wins his team over."
Austin accomplished more as a freshman than most senior starting quarterbacks in the state. He's not listening to everyone telling him how good he is going to be. He isn't satisfied by what he accomplished last year.
"I don't like staying at the same level," Austin says. "I like getting better each week."
He power cleans close to 300 pounds, can squat 500 pounds and can bench press 300 pounds. Add that to his 4.5 speed in the 40-yard dash and you have an exceptional young athlete. His athleticism has also allowed him to be successful in track and field. He set a state record in the Javelin last May and won a 5A state championship. He dreams of throwing the Javelin in the Olympics.
Austin is blessed with talent but those impressive numbers have come from hard work.
"Most anything can be achieved if you have the right mindset and you put in all the hard work and all the extra activities that other people aren't willing to do," he says. "It's going to be hard."
Austin gets up out of bed at 5:20 every morning with the goal of getting better in some aspect of his game.
---
Most anything can be achieved if you have the right mindset and you put in all the hard work and all the extra activities that other people aren't willing to do. It's going to be hard.
–Jordan QB Austin Kafentzis
---
"He's never missed a practice and I'm talking since a little kid." says his father Kyle who is also an assistant coach at Jordan. "He's never missed a workout in high school. Those are all his choices."
He has been inspired by his father and other members of his family. Eight members of the Kafentzis family played college football at the University of Hawaii. His father and two uncles spent time in the NFL.
The work is paying off as Austin already has a scholarship offer from BYU.
"I was in (Bronco Mendenhall's) office just sitting there eating grapes and stuff and I didn't even know what to say," he recalls about receiving a scholarship offer. "I had a big smile on my face and everything and I was just speechless."
Football has also helped Austin get through challenges he's had to face off the field.
"It's helped me with my parents' divorce," he says. "It's just helped because I can just go home and relax and not have to worry about fighting or anything. I can just worry about football, watch film and practice and try and get better each day."
Austin is putting up even better numbers than last year and has led Jordan to a 2-0 start and a No. 1 ranking.
He has a bright future ahead. He plans on making his college choice sometime during his junior year but right now he is focused on one thing.
"Right now I just want to win a state championship."
×
Related Stories