Estimated read time: 3-4 minutes
This archived news story is available only for your personal, non-commercial use. Information in the story may be outdated or superseded by additional information. Reading or replaying the story in its archived form does not constitute a republication of the story.
ZHENGZHOU, Henan — A motorized-wagon crash last week in China left townspeople rushing to salvage more than 6,000 raw eggs off a city street.
A witness reported that a man in a motorized, three-wheeled wagon got eager at a yellow light and crashed into a vehicle that was transporting 770 pounds of raw eggs, causing the eggs to spill out onto the street, according to the China-based blog Beijing Cream.
Video of the aftermath of the incident shows townspeople crowded around the scene, some helping the man collect the eggs, but others putting them in bags to take home. Some even scooped broken eggs and spilled yolks off the street in an effort to find something salvageable.
"It's not too hard to imagine that these people here, as the saying goes, have eaten quite a bit of bitterness in their lifetime, so that a mountain of broken eggs actually represents a windfall and something to smile at," wrote Anthony Tao of the incident.
Indeed, China's increasing income gap has led to greater disparity between the rich and poor than the country has seen in its history. Residents of urban China earn as much as 5.2 times what rural Chinese earn. But even Chinese economists are unsure of exactly how large the income gap is: a 2011 report by Wang Xiaolu, deputy director of the National Economic Research Institute at the China Reform Foundation, found that China's hidden economy — the gray area that exists where a refusal to report wealth meets a government's apathy — is growing faster than the country's GDP.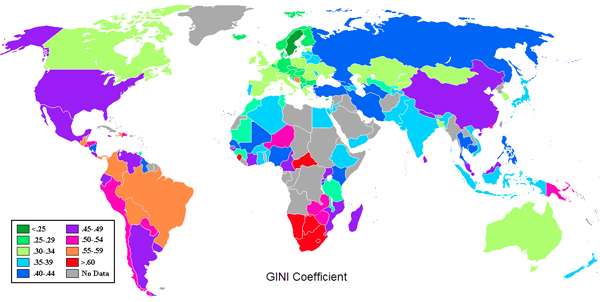 The head of the National Bureau of Statistics, Ma Jiantang, said in January that the government knows China's income figures for high earners are inaccurate, which is why the country refuses to publish the Gini coefficient, a measurement of income inequality.
For years, China has seen dramatic increases in spending on luxury items, while average income has risen at a slower rate. Wang told The New York Times the country's wealthiest are hiding their wealth, allowing the government to hide the truth about a society that is far more unequal than anyone was willing to publicly admit.
The allowance of a "gray area" has led to China's income gap increasing, even as the government says it is enacting new measures to tighten the gap. In 2007, China was said by most measures to have a lower Gini coefficient than the U.S.' own deplorable 0.450, at 0.415, based on CIA estimates. (A Gini coefficient of 0.4 or higher is said to be high enough to incite social unrest.)
As early as 2009, though, the Chinese income gap had skyrocketed, becoming slightly higher than the U.S., which also saw an increase to 0.468.
The video of rural Chinese rushing to save a cargo of eggs — whether to help the driver of the vehicle salvage some of his income, or to help themselves to dinner that night — provides a glimpse into Chinese society that, while not all-telling, helps to paint a clearer picture of the lives of the rural Chinese.
×
Related Links